20 Blogs to Follow for a Solid Web Design
Web design is becoming more relevant than ever as users navigate through countless websites expecting to find the most desired information with ease.
A design that does not fit well with the information that is being presented on the website will affect the overall user experience. Therefore, it is very important to know what elements go into having a layout that actually works to effectively communicate the message you are trying to send. Mobile website design is becoming increasingly important, too, which can drastically affect bounce rates.
This inspired us at Market Inspector to create a list of web design blogs that give a comprehensive overview of the key elements in web design. This includes but is not limited to the user experience, detailed reviews of design tools and templates, as well as the latest industry trends, among other things.
We differentiate the blogs based on if they cover web design from a purely educational or an industry-oriented point of view. Therefore, we divide the blogs according to following categories:
The first category of blogs are geared specifically towards designers, from beginners to experts, who can readily implement some of the design ideas that are shared. The second category of blogs aimed at online business owners who want to find out the latest trends in the web design industry to learn how they should adapt to it.
If you want to share winners of best web design blogs awards, then feel free to share the following badge on your website: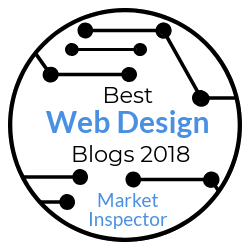 If you would like to use this image on your website, use the embed code below:
Best Agency Blogs
We picked the best agency blogs based on how easy it is for business owners to get relevant industry-related advice that they can implement to improve their online business. We also looked at whether agency blogs cover latest news and trends that are relevant for online brands.Take a look below to see what we came up with.
Web Solutions has been building web design and development solutions for small and medium businesses over the past two decades. Their blog is a space that they use to share their industry knowledge, which is certainly helpful for brands interested in growing their web presence.

"We have been driven by the desire to create an environment that fosters personal growth and development, and to be an industry leader in the digital marketing field. – Web Solutions"

What Impressed Us?

We were particularly impressed by how their blog talks about specific trends that are relevant in deciding how to optimise your website in 2018.

Our Favorite Article: 8 Signs It's Time to Upgrade Your Website

Executionists is a design agency run by an expert with over 20 years of experience in the fields of interactive design and digital marketing.

"Our philosophy of business is that client education is critical to success. To this end, we have a very robust blog and growing YouTube channel. Our blog has over 200 original articles on website design and web development, written for business owners. We pride ourselves on straightforward, honest advice." – Richard Parr, Executionists

What Impressed Us?

Their blog gives advice on design strategy that brands can employ easily. In addition, they also highlight their industry knowledge by publishing their annual article that outlines the cost of a website each year.

Our Favorite Article: How do I Plan for a Website Redesign

They are a Creative and Digital Studio with clients all over the world and their blog discusses topics related to web design and web development, along with news and culture.

"Our blog is an extension of our brand and offers help, advice, tips and tricks, and latest news about our business and the digital industry. We aim to inform people in an easy to understand language, and offer real honest advice. Our blog is part of our Organic SEO strategy, and helps generate traffic to our domain." – Andy Golpys, Shape.

What Impressed Us?

We liked that how they break down complex topics of web development in an easy-to-understand manner. They also bring forward the opinions and viewpoints of various members of their team, giving the blog a personal touch.

Our Favorite Article: Here's Why Typography is So Important for Your Website

They are a creative design agency and their blog presents relevant information about web design, strategy, and updates about their latest projects.

"The Bloominari blog got started by our company's CEO, Jaime Nacach, with the goal of spreading his web design, branding and digital marketing knowledge to small and medium businesses. For about a year, Jaime shared his real-life stories, tips and strategies on how to take advantage of the Internet and web design to help companies look bigger than they really are. Jaime later invited all of our agency's staff to become blog contributors so each of them could share their expertise as well. This helped our blog become an even more valuable resources to our readers. Today we continue to provide action-packed articles about web design, branding, graphic design, digital marketing, and sales & marketing automation." – Bloominari.

What Impressed Us?

We were fascinated by the practical nature of the articles on this blog with specific steps and 'how-to' guides on marketing and design, which can be very helpful for new online businesses for getting started.

Our Favorite Article: How to Design an Excellent Landing Page

They are an agency that focuses on web design and development with a blog that emphasises the various kinds of digital solutions that are possible.

"The reason we blog is to provide as much value as possible for our existing clients and potential clients. It started after looking at competitor agency blogs and they were just making 200 word blog posts claiming how great they were – saying a lot but in reality saying very little. We try to provide a lot of detailed advice on what's happening in the industry, answers people's common questions, and also provide in-depth articles on particular subjects such as WordPress, Website Design, Development platforms and SEO." – Craig Murphy, ALTAgency.

What Impressed Us?

They make sure to cover the latest trends and design strategies with their frequent posts, which are helpful in understanding the relevance of optimising a website.

Our Favorite Article: Why You Need a Website

They are an agency who try to maintain a professional approach in their blog by giving advice from their own experiences of being in this industry.

"Everyone at Zenman is a big kahuna in their own field: precise project management, gorgeous graphic design, dedicated development, concise content." – Zenman

What Impressed Us?

They are always up-to-date with relevant topics and they inform us with the latest info about web design. Also, the fact that they have articles about their company makes the website more friendly to the reader.

Our Favorite Article: What We Can Learn From Picasso and Spiderman- Why It Takes Time To Do Great Work

Tiny Frog has a blog that guides businesses on how to implement website projects by covering the latest news and trends.

"At TinyFrog, our goal is to adapt to the needs of our clients. Just as the frog is the first to indicate changes in the environment, we strive to be innovative and proactive with every "hop." – TinyFrog

What Impressed Us?

We liked how their blog posts have videos that give a voice to each member of their team, which makes you remember the insights they share.

Our Favorite Article: How to Use Color in Web Designs

Their blog focuses on giving tips and strategies on what businesses should be aware of in UX design and web development.

"We work with clients across the country who leverage our digital expertise. For nearly 20 years, Cymax Media's mission has been to help companies reach new heights – and we love what we do." – CyMax Media.

What Impressed Us?

We liked how they offer intuitive tips to improve design and overall user experience. Their blog reflects the experience they have in bringing forward the importance of design.

Our Favorite Article: Why You Need to Invest in UX Design

Blue Compass' blog talks about latest design trends and their potential impact for businesses. They have contributions from all members of their team from designers to developers.

"Our digital expertise sets us apart. Our team is continually learning and training, which keeps us at the forefront of emerging online marketing, design and development trends." – Blue Compass

What Impressed Us?

We liked how they give information and present results on design strategies that they test themselves by incorporating the latest trends.

Our Favorite Article: 11 Web Design Trends to Watch for in 2018

Orbit Media has a long standing history of being in this industry. Their blog is aimed at giving ideas that are research-based and can easily be implemented by businesses.

"Orbit makes the internet more helpful and informative one website project at a time. We do this with teamwork, expertise and a helpful attitude, proving every day that business can be a force for good." – Orbit Media

What Impressed Us?

We liked the appealing titles of their articles as well as the detailed information that is shared by various contributors who are experts in their field.

Our Favorite Article: What's Happening with Your Homepage Header, Hero and Headline?
Best Designer Blogs
We picked the best designer blogs by first and foremost considering how relevant it is for designers to gain information about web design that they can readily use in their work. Secondly, we also consider how easy it is to grasp this information by judging the overall visual experience and ease of navigation when assessing a designer-oriented blog. You can see which designer blogs made it in our list below.
If you are looking for the best web design blog, then Smashing Magazine is ideal place for practical tips and know-how's. It is a great platform if you are a designer or a developer that wants to readily implement some of the knowledge learnt in actual projects. They have a directory of articles going back a decade with contributions from a diverse set of professional designers.

What Impressed Us?

We liked that, apart from having detailed articles around this subject, they also share news about their 'Smashing' conferences where designers get an opportunity to meet experts sharing their insight.

Our Favorite Article: Ethical Design: Practical Getting-started guide

As evident by its name, it is a place where you can find creative design ideas to get inspired easily. So if you are stuck in trying to come up with the perfect design to fit your website or if you are simply looking for ideas to improve user experience by adjusting your website's layout, then this is the right place to get started and expand your knowledge to realise what actually works for the users.

What Impressed Us?

We liked that in addition to spreading knowledge about design tactics, they also provide in-depth reviews of the most powerful tools to incorporate in your process for speeding up your workflow.

Our Favorite Article: 4 Tips to Improve Your Page's Performance

Designmodo is a great place for staying up-to-date with trends and techniques by reading their in-depth articles, tutorials, and news about web design. They have contributions from expert authors under different categories which creates a diversity of compelling content. This is topped off with an impressive layout full of subtle animations that makes navigating through their blog all the more worthwhile.

What Impressed Us?

We would particularly recommend it for their tutorials and for following announcements regarding changes in design frameworks.

Our Favorite Article: Trending Ways to Use Color in Web Design

The first thing you notice after visiting their blog is how truly vibrant it is. Their use of small animations is a engaging means of instilling emphasis. They have shown why they are one of best web design blogs by having a sleek layout that really grabs your attention and gets you hooked into browsing their wide range of articles, from design ideas and trends, to user experience. There is also a 'comics of the week' section that also revolves around web design.

What Impressed Us?

We liked that they cover web design from all angles with informative articles on user experience, design inspiration, latest trends, etc.

Our Favorite Article: How Dark UX Patterns Target the Most Vulnerable

Design Your way is a blog managed by an expert designer and there is variety of information regarding web design, UI design, graphic design, and other resources. He often presents graphic design ideas with appealing infographics and other visual tools to give readers an experience they won't easily forget.

What Impressed Us?

We liked how this blog targets specific areas like graphic and interface design as compared to other blogs that tackle all other areas of design.

Our Favorite Article: How to Find Web Design Ideas Easily

E-Web Designer is a space with more than 200,000 designers tied together in a community that spreads knowledge on reviewing the most recent designer tools and important ideas on how landing pages should be structured.

What Impressed Us?

We particularly like how the categories are structured according to what is useful. The reviews & freebies section makes it easy for a beginner to navigate through their blog posts.

Our Favorite Article: 8 Fundamental Tools to Help You Start an Online Business

Vandelay has a blog that is organised into different categories, spreading knowledge about development and design. Additionally, there is also a 'Vandelay Special' section about most recommended design bundles, a set of courses meant to educate freelance designers.

What Impressed Us?

We liked how their blog is geared towards being both educational with best tips for beginners, as well as having articles on advanced topics for experts in the field.

Our Favorite Article: Single Page Web Design: Trends, Tips & UX Advice

Web Designer Wall, as they call it, is a dedicated space for designers to discover the latest design trends and development tools that can be readily implemented on a website. They give tutorials about WordPress themes and CSS tricks which are important topics to discuss. Their blog truly helps in tying the designer community together.

What Impressed Us?

We like how easy it is to find content about the specific categories given by how well organised it is on the frontpage of their blog.

Our Favorite Article: How to Speed Up Your Slow WordPress Website

The Line25 blog shares the most inspiring design ideas and themes helping designers to stay on track. The layout of their blog is simple and straightforward, enabling you to dive straight into their articles as soon as you reach their blog. You can find content regarding UX design, web development, themes and templates, and much more.

What Impressed Us?

We like how they keep pumping new ideas that are categorised in a manner that makes it easy for the readers to find exactly what they are looking for.

Our Favorite Article: Why and When to Redesign a Website

Designer Daily is a blog started by a Swiss graphic designer and it tries to generate curiosity between beginners and experts in the field by giving tips on resources to implement in their workflow. It is a great place to get updated with refreshing design ideas which certainly helps designers stay inspired on a daily basis.

What Impressed Us?

We liked that this blog advises designers on how they should approach their work which is pretty unique as it tries to address the qualities designers should possess to be successful.

Our Favorite Article: What Inspires You as a Designer
We would like to congratulate all blogs for featuring in our list and for showing great initiative to educate the readers about web design. If you think we missed any of your favorite blogs or if you have any comments, feel free to write to us at [email protected].