What Are Coffee Machine Rental Costs?
The price of renting a coffee machine in the UK varies according to different factors, and can range from £5 to £40 per week, depending on the type of machine, its performance, and its coffee output capabilities. For example, a bean to cup machine will cost less than a more intricate espresso coffee machine.
There are multiple factors that influence the cost of renting a coffee machine, some of which are:
Type of coffee machine – A common customisable feature that will affect the price of a rented coffee machine considerably is the choice of bean over instant coffee, as it involves quite a bit of additional equipment.
Range of drink options – The number of drink options are also going to affect the rental price for a commercial coffee machine. Simpler machines commonly offer between 4-5 options, while more expensive, customisable machines offer 8+ drink variations and are able to churn out 150 cups per day.
Add-ons to your coffee machine – The more customised you need your coffee machine to be, the more you will have to pay for it. Coffee machine suppliers offer a magnitude of options customised to best suit your needs.
Cost of Renting Coffee Machines

| Machine Type | Price Range |
| --- | --- |
| Instant Coffee Machines | £4.99 to £30 per week |
| Coffee Vending Machines | £4.99 to £50 per week |
| Bean-to-Cup Coffee Machines | £9.99 to £40 per week |
| Espresso Coffee Machines | £14.99 to £40 per week |
Fill in the form in just 1 minute
What Are the Advantages of Renting a Coffee Machine?
Coffee machine rentals present various advantages. Not only will you enjoy the financial freedom to invest in other areas of your business by avoiding high up-front costs, but you will also benefit from included service and maintenance for your chosen machine.
There are several other key advantages to leasing a coffee machine for your business operations.
1. Retention of Cash Flow
Companies are able to acquire a brand new coffee machine without any liquidity, as they simply need to sign the rental agreement. They are able to retain their cash flow and keep track of payments that are fixed and predictable.
2. Free Servicing and Installation by the Supplier
The suppliers offer free service and maintenance as part of the coffee machine rental agreement. In addition, they often take care of everything from installation of the coffee machine to teaching the staff how to use it.
3. No Maintenance or Servicing Responsibility
By renting a coffee machine, the level of convenience, freedom, and flexibility increases, as all responsibility and service related work is mostly transferred over to the supplier.
4. Easy Machine Upgrades
Companies are able to enjoy the latest models, as the supplier is required to periodically provide them with the updated machines as a part of the rental agreement.
5. Freedom to Test Different Machines
Renting coffee machines allows companies to test different options and find the one that best suits their needs. This helps them determine what type of coffee machine they should invest in in the future.
6. Possibility to Own the Machine
When leasing your machine, you have the possibility to own the machine after you have completed the payments. This can be an advantageous means of buying a coffee machine with many monthly installments, thus keeping a healthy cash flow.
7. Coffee Machine Training Included
Some suppliers may also offer training to users to ensure top quality beverages are produced.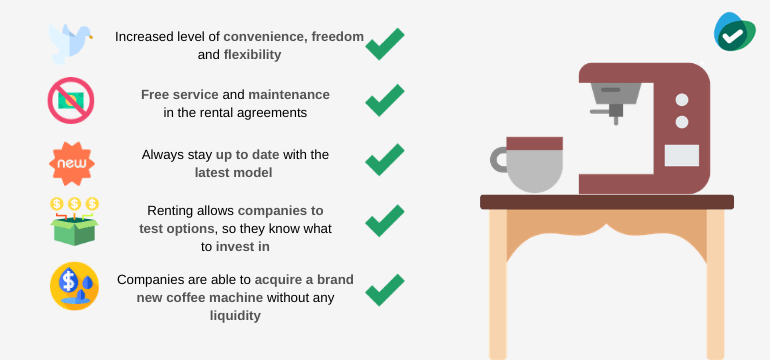 What Are the Disadvantages of Renting a Coffee Machine?
Renting a coffee machine can have many benefits, however there are also some downsides to consider before making your decision. From contract restrictions to potential locked-in periods, there are a few downsides to renting that you should be aware of.
1. Renting Can Be More Costly in the Long Run
When you rent a coffee machine, you pay a set amount each month. With certain agreements, you can attain ownership of the machine at the end of the lease. Although you can retain a healthier cash flow with a lease or rental agreement, you may end up paying more in the long-run than buying the machine outright would have cost.
2. Expensive Penalty Fees
When you rent or lease a coffee machine, you are bound to a certain amount of payment in your contract. If, for whatever reason, you may want to terminate your contract early, you could face hefty penalty fees for doing so.
3. Possible Limitations in Contract
While a lot of suppliers offer flexibility and upgrades to new machines, you could potentially be locked in to certain restrictions. For example, you may be limited to the coffee beans that your supplier has in stock. So, while you can test out machines for a period of time, you are ultimately limited to parameters set by your supplier.
How Does a Coffee Machine Lease Work?
Commercial coffee machines can be quite expensive, with prices ranging from £1,000 to £12,000 and even higher. Therefore, many customers opt for leasing a coffee machine, instead of buying one outright.
In a lease agreement, you agree to rent the machine for a fixed amount of time from a leasing company. Leases usually last for a period of 1-5 years, with a 3-year leasing period being the most common.
By hiring a machine, you avoid the high up-front costs that buying outright would require, and you can enjoy the additional benefits of regular servicing and maintenance. What's more, a commercial coffee machine is usually tax deductible.
Essentially, there are two different types of leasing agreements when it comes to coffee machines for hire: an operating lease and a finance lease.
Operating Lease
An operating lease is when the customer is not obligated to buy the product at the end of the contract, a process previously called hire-and-purchase. In most cases, operating leases are short term coffee machine hire deals that depend on the agreement reached between the supplier and the customer. This is a more flexible coffee machine leasing agreement, seeing as there is the opportunity to change machines.
Finance Lease
A finance lease is when the customer commits to buying the leased product at the end of the lease term, or commits to finding a buyer at the end of the contract.
This is beneficial as you can effectively pay for a coffee machine in many installments until you ultimately own it.
Here are two contract conditions that you need to pay attention to:
Lock-in period: Sometimes you can be locked in a contract for many years. Be aware of cancellation fees if you want to cancel the contract before the set end date.
Maintenance checks: Clearly define maintenance check regularity to avoid surprise fees.
Coffee Machine Service and Repairs
One of the huge benefits of coffee machine rental agreements is that you can get servicing and repairs done by your supplier.
Coffee machine service such as installing the machine is all taken care of by the installer—and you will be briefed on how to use it, too.
In addition, if your machine is faulty, you can get it repaired on-site. This can be included in your contract so all coffee machine repairs are either free of charge or within a set timespan, typically within 24 hours.
Descaling your machine should be part of a regular maintenance routine, and it's advised to include this in your agreement too, so that you can avoid any larger repair works.
Which Type of Commercial Coffee Machine Is Best for Your Business?
When choosing the right type of coffee machine for your business, you have a few options to choose from: coffee vending machines, bean to cup machines, and espresso machines.
There are several factors which need to be considered when finding the best coffee machine for your business needs:
What is the size of the company?
How many cups of coffee will be consumed per day?
What types of coffee do the employees prefer?
To get a better idea, read through the multiple types of coffee makers available for purchase:
Coffee Vending Machine
Hiring a coffee vending machine is a convenient option for larger businesses or organisations. They can serve a large volume of beverages with the simple push of a button, and can also come with other functionalities and can even double as regular water dispensers.
Bean to Cup Machine
Renting a bean to cup coffee machine is the ideal choice if you are looking for the most fresh and high quality coffee for your employees. You can get an integrated coffee machine rental that fits nicely in your office kitchen or reception.
In general, coffee machines from reputable brands are considered more reliable and perform at higher standards. In any case, rentals or leasing contracts from recognised brands like Melitta, Krups, Gaggia, De'Longhi, Jura or Franke, can guarantee high quality coffee, necessary to kick-start the workday of your staff.
Espresso Coffee Machine
Espresso coffee machines are the most sophisticated type of machine on the market—and rightfully so. With an espresso machine, you have the freedom to make any type of coffee with barista-level quality.
If you are opening a coffee shop, you are probably considering renting this type of machine. As they can be quite expensive, buying outright may not be possible, therefore renting an espresso coffee machine for your cafe can be a good solution.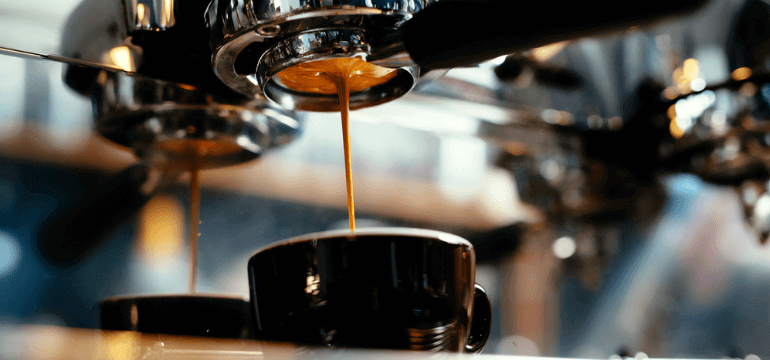 Find Your UK Supplier and Hire Your Next Machine Today!
There are numerous reasons for improving your office coffee. One, among them, is that many employees appreciate high quality coffee at their workplace. Good coffee allows them to get a good start in the morning but also keeps them awake and on alert throughout the day.
Finding the right coffee machine supplier can take a lot of time. There is a large variety of machines to choose from, each with different performance outputs and functions. Compare coffee machine rental agreements and coffee machine contracts of various suppliers to get the best price.
You want to find the best coffee machine for your business, right?
Fill out the non-binding contact form to get professional advice and reviews on which commercial coffee machine suits you best. You get up to four free quotes after customer service has verified your enquiry.