What Is mPOS?
An mPOS or Mobile Point of Sale is a system used to register payment transactions just as a cash register would, and is ideal for businesses that take payments on the go. An mPOS device can be an iPad, smartphone, or a tablet and is most seen in mobile businesses such as exhibitions, stalls, food truckts, etc. The price of an mPOS device can start from as low as £29 depending on your business needs.
MPOS systems are used as a replacement or connection to traditional ePOS systems, also referred to as online POS systems. This device can be an iPad POS system, a smartphone or a tablet, and is able to serve as a cash register, which is its basic function.
MPOS systems can be used in combination with ePOS systems – extending the portability of the ePOS system with the use of tablets or smartphones. However, some businesses use mPOS solutions as exclusive cash registers, by having a mobile device and card reader that connect to an online platform in order to enable transactions.
This is typically seen in small businesses, as mPOS systems are cheaper to implement. MPOS solutions provide the store with flexibility, payment security and transaction processes that are 3 times faster.
If you are interested in getting professional advice and reviews of mPOS systems, please complete our non-binding form. We provide a free service, by providing up to four quotes from our best suppliers, without any further obligations.
How Does mPOS Work?
MPOS systems allow you to accept a customer's payment regardless of your location as it is a wireless device. This can be from any mobile card machine, for example your mobile phone or tablet. The following video provides an introductory overview of how mPOS systems work:
6 Advantages of mPOS Systems
1. Lower Fosts
The implementation of mPOS solutions costs less than traditional ePOS systems. The cost usually covers the price of the mobile device, the device for card payments, as well as the online mPOS software, all of which are usually leased on a monthly basis.
Moreover, if the business is not satisfied with the mPOS software, it is cheaper to switch mPOS solutions when you originally equipped of an mPOS system. In addition to this, it is also easier to keep the device up-to-date in comparison to traditional ePOS systems.
2. Reduced Checkout Times
A further advantage is that mPOS systems can speed up the checkout time, resulting in the reduction of the waiting time customers spend queuing. Thanks to this factor, mPOS softwares highly contribute to the higher performance of businesses. This can also impact the work of the staff, allowing them to be more efficient in their work, leading to higher customer satisfaction.
3. Customer Information
Businesses that use mPOS systems are able to reach out to their customers via email or SMS receipts. This allows them to obtain more valuable information about their customers, and save money on printing. Loyalty programs help the identification of particular customers as well as their purchase history, preferences, trends, and also specific personal occasions such as birthdays.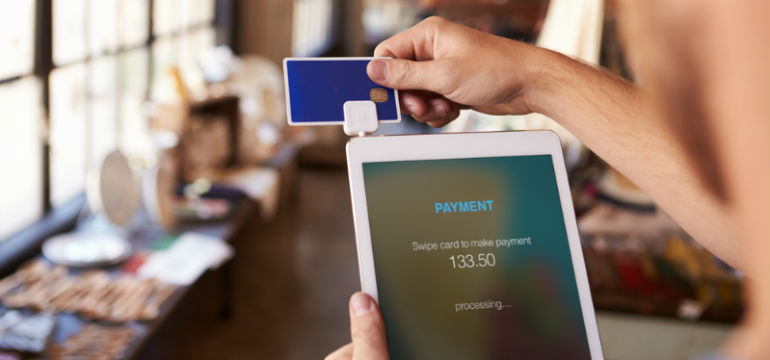 Loyalty customised programs, faster checkouts and staff assistance positively affect customer satisfaction and is likely to result in return visits and an increase in profit. In addition, Customer Relationship Management (CRM) is easier to handle thanks to the detailed information previously obtained about customers.
4. Mobility
One of the biggest advantages of mPOS systems is their flexibility. Whether it is mobility within the shop (using a portable card payment machine for your small business) – your staff can assist customers and make a checkout on the spot (and this way increasing sales), or mobility outside of the brick and mortar shop – trade fairs, exhibitions and other locations are no longer an issue.
5. Accurate Inventory Management
MPOS systems are able to store valuable data about consumers. This information can be stored in the device in order to help the staff remember all necessary information and therefore help customers more effectively. Being aware of the price of products and the availability of items can help speed up and increase sales.
6. Less Space Used
MPOS systems can also free up space and allow more design freedom when it comes to the shop layout. Stores would no longer have to be centered around cash registers, and there will be more space in the back office.
In addition, there are many advantages that mPOS systems bring to restaurants. Orders are taken in a more efficient way (the order is sent from the waiter's device directly to the kitchen printer), less errors in orders and quicker checkouts, all result in higher profits. Customers don't need to wait long to get a table, and waiters have more time to make the customer's visit more pleasurable.
Fill in the form in just 1 minute
3 Disadvantages of mPOS Systems
1. You Need Connectivity
With an mPOS system, you are dependent on an internet connection. This means that you need to ensure you have a stable internet connection in your shop, whether that be WiFi or broadband connection. That being said, nowadays most business are set up in a way that ensure connectivity, so this drawback can very easily be mediated.
2. Tech Support Reliance
The investment in mPOS means you may be more reliant on tech support. As with any technology, there is a risk of something crashing, and if that happens, you need tech support to help you out. Opt for a provider that offers 24/7 tech support to ensure you can always get out of a tech crash.
3. Cyber Security
Though mPOS systems boast high security, any kind of technology can be susceptible to cyber threats. When doing your research, go for companies that are accredited in cyber security and have the relevant certificates that will protect your data.
How Do I Secure My System?
As mPOS systems are generally any device that is wirelessly interconnected with other devices, there is a potential threat of viruses, even though it it minimal. There are different ways to reduce the likelihood of your mobile device being infected by a virus:
Install an antivirus and malware removing software
Only use legitimate apps
Set a code and lock the device
Keep the device updated
While it is hard to lose the hardware of a traditional POS solution, it is easier to lose devices that are being used as mPOS systems.
However, this threat is minimised if the device used is locked. In addition, customers' data as well as the business' data are stored in the cloud and not on the particular device, which makes it even more secure. Meanwhile, thanks to positive feedback and experiences, people trust online and mobile services.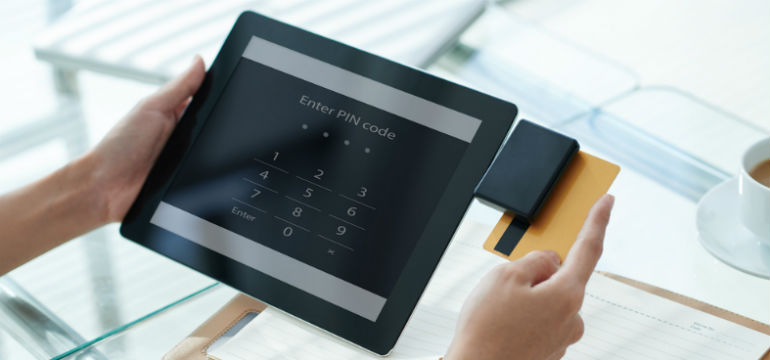 What Is the Future of mPOS Systems?
MPOS systems have been around for some time, but the implementation of mPOS solutions has been most successful in hospitality businesses – restaurants, bars, hotels and retailers (Apple Stores being one of the pioneers).
While some companies still believe ePOS systems will be needed alongside mPOS systems, others solely use mPOS systems. Only the future will tell if mPOS solutions are capable of being stand alone POS systems.
With the rise in popularity of mobile and contactless payment, mPOS systems might become more popular in the future, offering increased flexibility and convenience to both customers and business owners.
Are you wondering how you could improve the efficiency of your business? Mobile Point of Sale systems are an ideal solution if you are looking to replace traditional ePOS systems, and subsequently increase the efficiency of your store.
How Do I Find the Best mPOS System for My Business?
Finding the right type of POS system for your business can be an arduous process. It is impotant to identify your exact business needs in order to make the correct purchase decision. In addition, you should consider whether or not you should buy the system, or perhaps opt for a POS or ePOS rental instead.
Market Inspector allows you to compare the price of different mPOS systems and mPOS softwares, from different suppliers. Get started by submitting the contact form found at the top page, and you will receive up to 4 free, non-binding quotes tailored to your needs and your business.
Fill in the form in just 1 minute