Comparison of the Top Contactless Card Readers 
The type of mobile card reader you will need depends on the nature of your business, design and style preferences, cost flexibility, payment solution options, and much more. The table below gives you an overview and comparison of the most important features for an easier decision making process.
SumUp vs iZettle vs Square
Features
SumUp In-depth Review
iZettle In-depth Review
Square In-depth Review
Price
SumUp Air £29
SumUp 3G Reader £99
iZettle Reader 2 £55
Square Reader £23
Transaction fee
1.69%
1.75%
1.75%
Monthly fee
£0
£0
£0
Supported card types and payment solutions
Receipts
SMS, e-mail, print
SMS, e-mail, print
SMS, e-mail, print
Battery
Li-ion battery (500+ transactions a day)
Low-energy battery, 30% longer battery life.
Powerful all day lasting battery
PIN entry
On card reader
On card reader
On smartphone/tablet
Accessories
Tablet app support, receipt printers & scanners, cloud access to analytics & administrative tools
Receipt printers, tablet stands, cash drawers, barcode scanners
Dock, instant deposit, iPad POS stand, employee management programme
Colours
White
White, Black
White
Tipping functionality
No
Yes
Yes
By comparing the most important features of the three different card payment machines for small businesses, it is evident that depending on the requirements, they are all great options, especially with low setup costs and no monthly fees.
Check out the winners in the major categories below: 
Lowest Price: iZettle Card Reader 2
When comparing their original prices, SumUp Air Reader and Square Reader come at a lower price than the iZettle Card Reader 2, however quite frequently, the card readers are offered at a much lower price. 
Lowest Transaction Fee: SumUp
Transaction fee of 1.69% is the lowest with SumUp, while the other two charge a fixed price for all types of transactions, a fee of 1.75%.
Most Accepted Cards: iZettle and SumUp
All three brands offer a mobile card reader that works together with iOS and Android apps for processing the payments. When it comes to the card types accepted, you get more options with iZettle and SumUp, but Square is not far behind, as it accepts all major card types. However, from the three, iZettle accepts the widest variety of cards.
Best for Contactless Payments: iZettle and Square
On top of card payments, users are also able to use contactless payment through payment services on their phones. The two most used services Apple Pay and Google Pay are available for all three card processors. However, Samsung Pay is not an option for the SumUp card reader, but is available for both iZettle and Square card readers.
Longest Battery Life: iZettle
Battery life is quite important for devices like these, as they need to perform at all times. Although all three card readers have long-lasting batteries and are able to get through many transactions, iZettle card reader is built with a new powerful battery, promising to hold 30% longer than any other mobile card reader battery on the market.
Hence, if battery life plays a big role in your choice, there is no doubt that the iZettle Card reader is the best option for your business.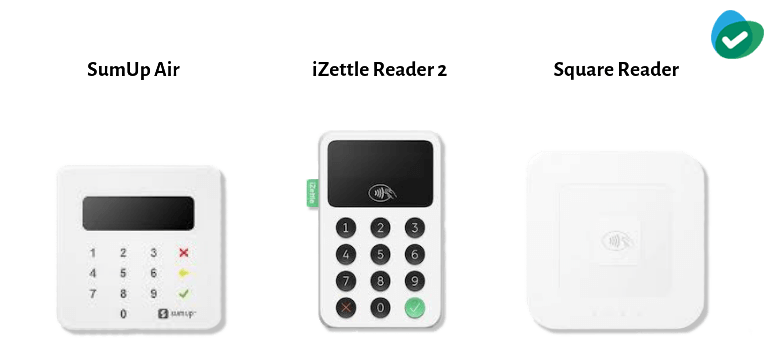 User Flexibility: SumUp Air Reader and iZettle Reader 2
The placement of pin entry can also affect your decision. As you can see in the picture above, SumUp Air Reader and iZettle Reader 2 allow for the customer to enter their pin directly on the reader. Square Reader on the contrary doesn't have this feature, and the customers need to enter the pin on the smartphone/tablet.
Receipt Functionality: All Are Winners
Depending on the business and how the card reader is intended to be used, there are extra accessories and features that can be purchased for additional fees. From receipt printers and scanners, tablet stands, cash drawers, to analytics and administrative tools, all three brands offer a variety of additions for a full mPOS (mobile point-of-sale) system. With all the three card readers, receipts can be sent through SMS, email, or can be printed.
Colour Options: iZettle
The design of all three different mobile card readers is very slick and modern. However, so far, only iZettle card readers come in both black and white colours. The rest only come in white for now.
Best Tipping Options: iZettle and Square 
Lastly, we have compared the three card readers in terms of tipping options. Only the SumUp card reader doesn't allow for tipping – iZettle and Square have implemented this in their products. Thus, if you are in the restaurant industry, for instance, this is something to keep in mind.
SumUp Card Readers Review — Is It the Right Choice for Your Business?
SumUp is one of the leading electronic point-of-sale (ePOS) companies in Europe. They have built their own payment solution end-to-end, and are also working on developing a suite of APIs and SDKs in order to implement SumUp payment into other apps and services.
There are currently two card readers offered by SumUp: SumUp Air Card Reader and 3G Card Reader.
SumUp Point of Sale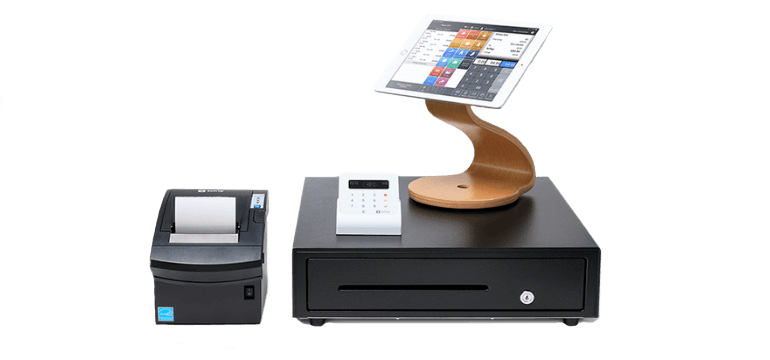 Check out prices on Amazon:
SumUp Air Card Reader vs 3G Card Reader
Although SumUp Air is created to be one of the most advanced devices in its category, with the 3G Card Reader SumUp has gone a step further in creating a unique device that has some features that we haven't seen in other card readers before.
The original SumUp Air Card Reader works accompanied by a smartphone or tablet. Hence, the owner enters the amount on the mobile/tablet, and the customer can proceed with the payment using a card, contactless, or through mobile payment services.
With the new 3G Card Reader on the other hand, some of those steps are skipped. Only one device (the card reader) is used for the payments. All you need to do is to enter the amount directly on the device, tap the 'charge' button, and allow the customer to pay with the preferred method. All the payment methods are available here as well (chip, contactless, or mobile payment services).