How Much Does It Cost to Rent or Lease a Printer?
Many copy machine suppliers in the UK provide leasing and hiring solutions. You can expect anything from £6 to £400 per week. However, the following features must be taken into account before your decision:
Range of office printers to choose from
Hardware support
Installation and user training
Flexibility in business printer rental/leasing contracts regarding early return of hardware
Duration of the contract
Price
It's important to assess your business needs and have a rough idea of the above factors, as printer leasing costs can vary. The table below breaks down costs:
Printer Hiring Costs

| Printer Type | Price Range |
| --- | --- |
| Low-Volume Printers | £5.99 to £30 |
| Mid-Volume Printers | £39.99 to £100 |
| High-Volume Printers | £99.99 to £400 |
If you think that hiring a printer is what suits your business model, fill in the form at the top of the page and get up to four, free, non-binding quotes tailored to your needs.
Comparing Rental vs Leasing Costs
Leasing is a long-term solution to owning the printer, while rental is more of a short-term option. In the case of rental, the ownership of the hardware will not be transferred while in the case of leasing it is possible to buy at the end of the printer lease period.
In regards with leasing, the price will depend on the type of the printer. Generally, the leasing period can be anything from 3 to 5 years and the printer leasing UK costs can be ranged from £4 to £35 per week, excluding VAT. Due to the multitude of printer variations and the plethora of suppliers, it is possible to find price variations that fit your budget. There may also be some tax relief when leasing assets like printers.
Normally, businesses will need to rent office printers in periods of peak demands or for occasions like seminars and similar events. If the rental period extends beyond 6 months, leasing may be a worthy consideration. In the UK, the hire costs can start from £70 to £80 per month. Again, as with leasing, the price can vary a lot depending on the business requirements.
What You Will Read in Our Guide
Why Should Your Business Hire a Printer?
A business printer can cost anything between £100 and over £3,000. Multiply this figure by the number of printers a business may need and the costs can quickly escalate. For many small businesses, outright ownership may too expensive, which is why hiring a printer can be the optimal solution.
For many organisations having commercial printers and photocopier is a necessary equipment, but not a lot of thought or research goes into how to acquire one. It is important to note that equipment depreciates over time and companies are locked out of any new technology once they have purchased the hardware. When purchasing, companies are also exposed to the costs associated with the running and maintenance of these machines.
Printer hiring, therefore, is a great alternative allowing businesses to keep up with the technological advancements. Especially for small businesses, in the short run renting and leasing enables you to save money. Renting a printer in the UK can cost you as less as £5 depending on the hardware, and is a great solution for businesses that have high printing needs periodically.
What Are the Advantages?
A simple reason for hiring office printers is to minimise big costs and the hassle of owning and maintaining the printers regularly. Budgeting is an important aspect of managing a small businesses successfully. Let's look at some of the advantages that come with hiring printers for your business:
Eliminates upfront cost
Best for meeting peak demands
Hassle free maintenance
Easy to upgrade
Tax Benefits
1. No Burden of Upfront Costs
This is the first and foremost benefit of hiring a printer as it does not pull out a huge amount of money as your business cost. Renting a printer in the UK usually doesn't require you to put in down payment, which makes it easy on your pocket when you need to bring in office supplies for your business.
2. Good Option for High Demand Periods
For businesses that have high printing needs especially during corporate events or special marketing campaigns, renting a printer makes great business sense and low investment both in time and cost.
3. Hassle Free Repair and Maintenance
As hiring means you don't have the ownership, you also don't have to worry about regular maintenance costs that come with office equipment. Printer leasing and hiring companies provide such additional service along with their equipment which eliminates the need of your time to be spent on this.
4. Easy to Upgrade
As technology keeps evolving, your office equipment keeps getting redundant. By hiring a printer you also have the option for easy upgrades as and when you see the need for it. This means that you can easily change along with your printing needs.
5. Tax Benefits
Small business always are looking out for ways to minimise their tax bill, and leasing or hiring can help with this as you can write off the rental costs as business expenses and not worry about depreciation at the end of every financial year.
What Are the Disadvantages?
With any business decision, it's important ot weigh up the pros and cons. There are drawbacks to leasing a printer that need to be evaluated, such as:
Higher long-term costs
Restricting contracts
1. Higher Costs in the Long-Run
By the end of the lease or rental contract, you will usually have end up paying more than the printer's value, which is due to interest. Naturally, the hiring and leasing business must turn a profit, and this is done by charging an interest fee. While this can lead ot higher overall costs, this may be the better option for some businesses that would prefer to avoid up-front costs.
2. Rigid Contracts
If you make a printer leasing or rental agreement, you will be locked into a contract. Unless you have explicitly agreed on terms and conditions, it oftenties means you wont be able to pause or cancel your contract prematurely.
What Types of Printers Are There?
Laser and inkjet are two dominant printer categories.
For high-volume tasks, it is better to go with laser office printers as they are quicker. Inkjet printers are better if you need to print documents in colour.
Within these categories, there is an array of printer types you can choose from:
All in one printers
Industrial printers
Black and white printers
Large format printers
A3 printers
In order to choose the best printer type for your business purposes, you should evaluate their respective features.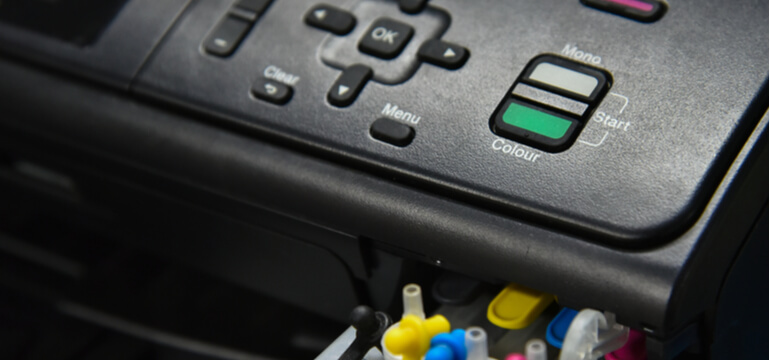 Common Printer Features to Consider
Here are the most common parameters to compare while choosing the best type of printer for your business.
Common Printer Parameters

| Type | Paper | Connectivity | Hardware | Other |
| --- | --- | --- | --- | --- |
| Inkjet/Laser | Cost Per Page | Wireless/Wi-Fi Direct | Print Speed | B&W/Colour |
| All-in-One | Paper Size | Air print/Cloud print | LCD Display | Scanning |
| 3D | Paper Capacity | USB/Pict Bridge | Duty Cycle | Faxing |
| Industrial | Double Sided Print | Ethernet | Design Lifetime | Automatic Document Feeder |
Memory card/USB reader, network connectivity via cable or Wi-Fi, Duplex functionality (printing on both sides), LCD display, scanning and faxing are some of the other features to consider when trying to select a printer for the office. An all in one printer is a common solution that comes with most of the aforementioned features.
Cost Per Page (CPP)
An important metric to pay attention to is Cost Per Page (CPP). Irrespective of the type of printer, the cartridge will have a specific page yield. Page yield is the number of pages that can be printed with the given cartridge. By dividing the cartridge cost by the page yield (number of pages), one can calculate the cost per page. For example, if a cartridge costs £20 and it is possible to print 100 pages with it, then:
CPP = 20/100 = £0.2
Calculating the CPP can be more complicated in the case of colour printers as they use multiple cartridges. By knowing the CPP one can ensure that the printer hire costs are within the budget.
Print Speed & Size
Typically, a printer will print anything between 15 and 30 pages in a minute, while there are printers such as the Brother HL-S7000DN that can do up to 100 pages per minute.
Organisations that need to deal with high volume paperwork, either due to size of the organisation or due to the nature of the business, are suitable candidates for such hardware. Law firms should consider a printer with high print speed.
Modern office printers offer a wide range of possibilities with A3 printing, A5, A6, B5, B6, Letter and Envelop printing.
Paper Capacity
Further, paper capacity is yet another metric to consider. A printer may have a high printing speed yet if it has a modest paper tray, someone will have to fill in the sheets often. It is not uncommon to find office printers to hire with sheet capacity in the range to 150 to 250 sheets. In certain cases, this can go up to 600 sheets.
Every printer is designed to handle a certain volume every month. This is termed as the duty cycle (derived by stress-testing the printer) and is often quoted by the manufacturers.
Operating a printer at full capacity every month may hurt in the long run and may make it prone to frequent breakdowns. It is desirable to have a recommended figure from the manufacturer (monthly recommended print volume) so that the printer doesn't stop functioning in a matter of a few months.

Apart from the maximum duty cycle and recommended maximum per month, businesses should also check for the design lifetime of the printer in pages. This will give some clarity regarding how the printer should be operated, whether it can handle the heavy months and how many years the printer will be good for use.
Frequently Asked Questions about Printers
It only takes 1 minute to fill in the form!