Everything You Need to Know before Hiring a Photocopier
A photocopier is an essential piece of office equipment when you need to make copies of documentation, brochures, data sheets, etc.  It can be an expensive investment to startups and small firms, in which case renting or leasing one makes better business sense, especially when photocopier rental and leasing in the UK can start from as low as £20 a month for a basic hardware. You can find more photocopier rental prices in the table below.
Here's a guide on the photocopier rental and leasing possibilities in the UK, along with various options best suited to your business needs. Most photocopier suppliers on the market can cater to all kinds of copying needs and leasing or hire agreements, and you can find all the information about renting and leasing costs, the difference between renting and leasing, and the factors to consider when you need to rent a copier or lease a copier.
If you are interested in finding more information on renting and leasing photocopiers, just fill in the form at the top of the page and we'll make sure to provide you with up to four, free, non-binding quotes to help you make a well-informed decision.
What Is the Cost of Hiring a Photocopier?
Depending on the size and the needs of your business, you can end up spending anywhere in the range of £100 to over £4,000. High print speed, larger paper trays, huge LCD display and high RAM are just some of the features that are usually found in high-end photocopiers.
However, all features will come at a premium and it is also possible that an office photocopier with very high print speed may be limited by other features. It's important to assess your copying needs, and maybe even consider if your copier needs additional features, such as a colour photocopier, an A3 printer integration, or if you want to even get an all in one printer that has copying features.
Photocopier Print Volume and Cost

| Print Volume | Functionality | Monthly Rental Cost | Monthly Leasing Cost |
| --- | --- | --- | --- |
| Low Volume | Basic hardware | £20 – £40 | £20 – £35 |
| Mid Volume | Advanced hardware, faxing, colour, scanner/printer etc. | £40 – £100 | £40 – £50 |
| High Volume | State-of-the-art hardware, Faxing, Stapling, Binding, Larger paper trays, Network capability, Automatic document management etc. | £100 – £300 | £100 – £250 |
Typically, any business will have specific needs and may not even use all the features they pay for. Further, with ownership, it is also essential to factor in the maintenance and supply costs. If purchasing is not your cup of tea, then take a look at the table below to find how much a photocopier hire will cost you. You can also see how much leasing printer costs based on your monthly print volume.
If we consider a mid-volume photocopier, we find that the photocopier rental costs (at £100 per month) can be close to £3,500 at the end of 3 years. Leasing, on the other hand, will be much cheaper – £1,800 (at £50 per month).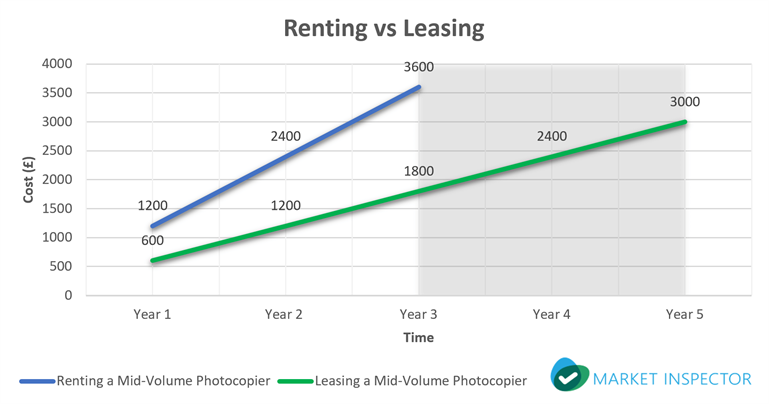 What's the Difference between Renting & Leasing Contracts?
When it comes to choosing between renting and leasing a photocopier, there are certain aspects you need to think of such as the binding time, ownership, maintenance, etc.
Rental of photocopier machine is a short term contract which is more flexible as compared to photocopier leasing. It is best suited for businesses that have regular but short term copier needs.
Photocopier lease, on the other hand, is a relatively long term contract that usually runs for 3 years or more and is best suited for established small businesses who do not want to make big investments in the short term. There are numerous other differences that must be taken into consideration before deciding whether to rent or lease: