Fill in the form in just 1 minute
How Much Does a Coffee Vending Machine Cost?
When choosing a coffee vending machine, you have three options: renting, leasing, or buying one. Hiring a basic coffee vending machine can cost as less £5 per week. Each of these options have their very own advantages.
A rental agreement usually comes with maintenance servicing, and there is no commitment.
A leasing agreement is essentially buying the coffee vending machine in small installments, as you will own it after it has been paid off.
Buying requires full commitment: it is the cheapest in the long term at the cost of high upfront costs and the responsibility of servicing it.
How Much Does It Cost to Rent, Lease or Buy a Vending Machine?
The price of a hot drinks vending machine can vary depending on several factors. The main ones to consider are size and quality. Prices for large or high-end coffee vending machines are naturally higher than prices for low-end or smaller units.
Renting, Leasing, Purchasing Prices

| Size | Rent | Lease | Buy |
| --- | --- | --- | --- |
| Low-end/Small | £5 – £8.49 per week | £9.99 – £12.49 per month | £899 – £1,499 |
| Medium | £8.49- £12.49 per week | £12.49 – £15.49 per month | £1,399 – £1,699  |
| High-end/Large | £12.49 – £19 per week  | £15.49 – £25 per month | up to £4,999 |
When leasing a coffee vending machine, you often pay around 50% more than buying it. This is because leasing is the middle ground between renting — paying but never owning the machine — and buying — paying the entire purchase price upfront.
When you lease a coffee vending machine, you pay the full price and interest rate in small installment within an agreed period of time. This often amounts to 25-30% of the purchase price of the machine. In addition, the lease contract does not include servicing in many cases, meaning that should calculate with an additional 10% to 20% spent on maintenance. Nevertheless, if you don't want to or don't have the means to pay cash for an expensive machine, leasing is still a viable option.
Rent, Buy or Lease a Coffee Vending Machine
Rent, buy or lease? That is the question. Each of these options has its advantages but, depending on the specific needs of your business, one of them will be better for you. The main differences among the three types of contracts are:
Who retains ownership of the coffee vending machine
Payment conditions
Responsibilities of the parties
1. Renting a Vending Machine 
If you hire a coffee vending machine, ownership will be retained by the supplier and you will typically pay a weekly amount for a shorter period of time. A rental agreement is usually quite flexible, and the responsibilities that weigh on the renter are significantly smaller than in other cases.
If a limited budget is making it difficult for you to buy a commercial coffee vending machine, renting one might be the right solution for you.
In fact, there are some perks with hiring a coffee vending machine that you would not enjoy with a purchase or a lease. A rental agreement is a few months to a few years long and it does not bind you to purchase the coffee vending machine at the end.
Therefore, it allows you to try several models and to upgrade your coffee machine very easily. There are suppliers that tailor the vending machine to fit specific needs of the customer. These tend to be the best coffee vending machines seeing as they perfectly fit the user.
2. Leasing a Vending Machine 
With a lease, instead, you have the option of acquiring ownership of the coffee machine at the end of the contract and you will pay a monthly amount for a longer period of time – usually 3-5 years. In this case, clear terms will be included in the contract on possible restrictions for use and the conditions of service from the supplier.
3. Buying a Vending Machine
Purchasing a coffee vending machine might sound like the most simple and straightforward option, because you will make a one time payment and acquire the property right away. However, if you buy the vending machine, all responsibility for maintenance, refilling and upkeep will be on you.
Payment, Ownership and Responsibilities

|   | Payment | Ownership | Responsibilities |
| --- | --- | --- | --- |
| Rent | Week or monthly | Of supplier | Mostly on supplier |
| Lease | Monthly – for longer time (3-5 years) |  Of supplier during the lease, with option to acquire in the end | Shared as agreed |
| Buy | One time | Of buyer | On buyer |
4 Factors Affecting the Price of Coffee Vending Machines
Here are the main factors that will influence the price of your coffee vending machine, whether you decide to rent, lease or buy it. 
1. Size of The Coffee Vending Machine
The size of the machine is the next thing to decide, based on the needs of your business. Depending on the number of employees and the number of coffees they will need every day, you can choose from different sizes of coffee vending machines: from a small, table-top unit to a bigger, floor standing unit.
2. The Range of Beverages Your Unit Should Dispense
Consider what kind of beverages you need in your office, for example if you want only a coffee machine, or also an independent water dispenser functionality. A coffee machine that can only brew a handful of simple coffee varieties will have a lower hiring price than one that can dispense fancy hot drinks like latte, cappuccino, mocha, hot chocolate or even soup.
3. The Brand of Your Coffee Machine
You may also have preferences for various coffee machine suppliers: if you choose a machine from a well-known brand like Selecta, Franke, or Lavazza, you might end up paying a higher price than with other brands, but you will also enjoy the guarantees that come with these reliable brand names.
4. Added Features to Your Rental Agreement
If you need additional features in the machine, some suppliers will be able to customise vending machines for you, and this too will reflect in their rental cost. Moreover, the level of service or the added services you may require will affect the price, for example refilling of the vending machine can be agreed separately and included in the price of the machine.
Key Considerations When Picking a Coffee Vending Machine
When selecting a coffee vending machine for your office, there are a few other factors to bear in mind – aside from the type of machine. 
Coffee machine water filters
Assortment of drinks
Single-use cups
"Coffee to Go"
Time it takes to dispense coffee
Payment options
Coffee Machine Water Filters
Some machines have an incorporated water filter. The choice to hire a coffee machine with a water filter depends on the type of water in your area. Coffee is mainly made of water, so it is important that the water that goes in your coffee machine is not contaminated, chlorinated, too high in calcium or magnesium.
If that is the case and you are not using a water filter for your coffee vending machine, your coffee will have a bad taste and the machine will calcify very quickly.
While larger machines can have a built-in water filter, smaller machines may not have this feature and will require an external water filter, if needed.
Below is a table of water hardness. You should check the hardness of the water in your area before buying a coffee vending machine.
Indicating the Hardness of Water

| Hardness | Grains per Gallon (gpg) | Parts per Million (ppm) or mg/l |
| --- | --- | --- |
| Soft | <1.0 | <17.0  |
| Slightly Hard  | 1.0-3.5 | 17.1-60  |
| Moderately Hard | 3.5-7.0 | 60-120  |
| Hard | 7.0-10.5 | 120-180 |
| Very Hard  | >10.5 | >180 |
Assortment of Hot Drinks
Each type of coffee vending machine can have a larger or smaller assortment of hot drinks. The most simple counter top unit will only dispense brew coffee, for example, while the most advance in-cup vending machine might have a selection of ten or more different products. Depending on your budget and you needs, you might want to choose a more or less ample selection for your coffee vending machine.
Do Coffee Vending Machines Provide Cups?
Many floor standing coffee vending machines serve coffee in single-use paper cups. There are two types: those machines which use cup dispensers on the side in which cups are stored in a stack and the customer gets the bottom-most cup; and in-cup machines which grab the cup from the inside of the machine, serve the coffee behind a splash screen, and then open it up for the user to grab.
If you want to cater coffee to a large number of employees then this will be a useful feature to have. However, businesses that make coffee for customers or clients while using a tabletop or capsule coffee machine might not want to serve coffee in paper cups and may prefer more presentable porcelain cups.
Another consideration when choosing a machine is whether you are looking for a machine that integrates sugar, milk, or cream into the drink making process, or whether you would like to provide these coffee additions alongside the machine with the cups and stirrers.
Is "Coffee to Go" a Good Alternative?
Some floor standing coffee vending machines deliver coffee to go, in separate retail sized cups with sip lids. These units work great for small businesses, libraries, kiosks, universities, and rest stops. Some of these machines have a touchscreen option making it user-friendly while providing multiple beverage options to the customer. They can also come with the option of setting a price for the dispensed coffee, and require almost no maintenance.
How Long Do You Have to Wait for Your Coffee?
All models are capable of delivering coffee in less than one minute. Machines that use pre-ground coffee, such as capsule units, can deliver coffee in 40 seconds. Floor standing coffee vending machines will, most likely, deliver coffee in one full minute. Instant coffee vending machines can deliver your hot beverage in just about 9 seconds, which is very useful in offices where you want to save time on coffee breaks.
Payment Options for Coffee Vending Machines
Coffee vending machines suppliers offer different payment systems. The machine can be cash or cashless. If it is cash and coin-operated unit, sometimes the rental agreement will provide that you get to keep the money that is inserted in the machine. If you are using the coffee and/or tea vending machine in a commercial space, then coin-operated makes better sense, whereas cashless systems could be used in offices.
Cash cards and keys are a convenient option for office settings, as they do not require handling inconvenient amounts of cash. They allow, for example, for the employer to determine a certain amount of free coffee for their employees and keep track of the consumption. More modern models, besides accepting credit cards, also allow mobile payment systems.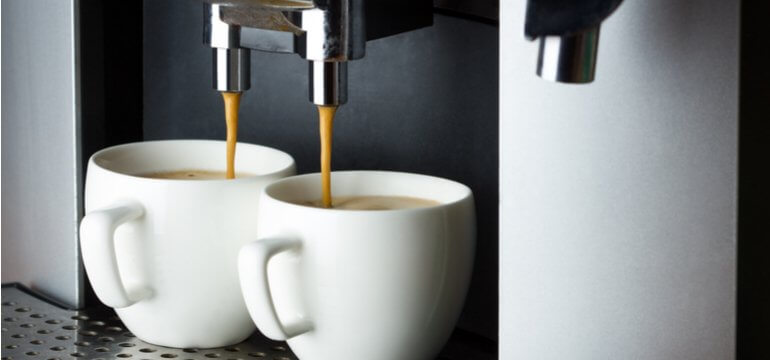 Coffee Vending Machine Maintenance And Installation
When renting or leasing a coffee vending machine, the supplier often offers the possibility to include installation, maintenance, and refilling services in the agreement for a convenient price or for free. Delivery and installation are typically included in the rental agreement, as well as a minimum level of service.
Moreover, refilling of coffee, sugar, milk and chocolate can be included in the contract. Cleaning and descaling services can be offered by the supplier, included in the price or agreed separately.
Many tea and coffee vending machine suppliers offer a 24-hour customer service phone line in order to resolve any minor issues as quickly as possible. Whether it is to empty coffee grounds, fill ingredients, descale, or repair a machine, suppliers will be there for you when you need it.
Smaller vending machines have built-in cleaning system with easy-to-follow procedures, and are relatively low maintenance. Larger machines will need to be serviced by the supplier to maintain the machine. It is essential to check the warranty period and post sale services offered by the supplier.
To request quotes for coffee vending machines rentals you just need to fill in the form at the top of the page in three simple steps. Our customer center will prepare up to four customised quotes for you for free and without any further obligation!
Fill in the form in just 1 minute