Find Out Which Are The 50 Most Successful Coffee Blogs Of 2017
After scouring the internet far and wide and carefully weighing our decisions, Market Inspector is proud to present the very best coffee blogs of 2017. A lot has changed since we last compiled this ranking, with blogs undergoing reconstruction, being developed further, and new blogs emerging. Thus, we felt it was more than necessary to compile a new record of the crème de la crème of coffee blogging.
Coffee and coffee machines have permeated many aspects of everyday life, and therefore our updated list reflects this diversity in coffee. The evaluation took place in 3 stages, and after two weeks and countless cups of coffee, the new ultimate guide to coffee blogs is ready for you — so grab a warm cup of brew and let's get started!
The awards were subdivided into the following categories:
Since every single one of the following blogs and websites provides high-quality content, the selection process turned out to be quite difficult, and you will probably find that most entries would fit into more than one of the categories listed here. 
We are aware that the varied content of these multi-talented bloggers cannot be summed up by a simple category, so the categorisation was mainly based on the elements which struck us most upon visiting the web pages in question. Additionally, it is necessary to mention that some websites included here are not, strictly speaking, blogs (some even address this fact consciously and self-define as something else). In every case, however, there were some compelling features, such as a personalised charm or a good content fit with a category that convinced us to include them in this list.
The featured blogs are more than welcome to use the code below to place the badge on their website.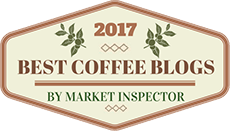 If you would like to use this image on your website, use the embed code below:

What characterises the blogs in this category is their artful and stylish approach to the topic of coffee. Here, the art, the visuals, and the creative elements are just as important as the delicious taste of a brew. Often, the creators of the following blogs have managed to realise a symbiosis of two or more of their passions successfully. So be prepared for some stunning images and dazzling graphics in the subsequent section—all, of course, in combination with good coffee! 
This UK-based online shop for everything coffee has been included here because of its extensive online and social media presence, and strongly visual way of communicating to its users. Both the 'Resources' and 'Community' sections of Has Bean's online presence contain a mountain of information that will make every coffee enthusiast's mouth water! From a coffee 101, to brew guides, to videos about the processing of coffee, to the right way of storing coffee beans—they have got you covered. Their highly detailed blog entries talk about such varied topics as current news, the issue of child labour, new blends, or recycling coffee bags. All in all, the dedicated team behind this website manages to create a truly engaging online experience

"I've loved coffee since I was a child, I'm sure if you cut me I bleed single origin filter coffee. Its more than just a beverage to fuel you in the morning, its a organic complex farmed product with a back story and real people behind every cup." 
-Stephen Leighton, Managing Director

What you will find: brew guides, coffee processing videos, instructions for making espresso, roasting guides, web series, basic information, and a vast variety of social media representations

Want to take a closer look? 

ust from reading their story, it becomes clear that the brothers David, Adam, and Noah Belanich are a creative force to be reckoned with. They founded Joyride back in 2011, taking to the streets in a quirky, colourful food truck as New York's first mobile specialty café. These beginnings soon evolved further into a popular business which puts an end to bland office coffee once and for all—yet the brothers' creativity is still noticeable in the blog section of their website. On their blog, the Joyride team keeps its users informed about current news in the world of coffee, focusing strongly on their native area of north-eastern America. There are, however, also a lot of fun how-tos, personality quizzes, and reviews of anything coffee-related.

"At Joyride, we are simply obsessed with coffee and we've fine-tuned our business to focus on quality above all."
-JoyRide

What you will find: coffee news, analyses of products, fun facts, how tos and any other thoughts on coffee that occur to the Joyride team.

Want to take a closer look? 

The Australian company, Five Senses Coffee, seems to be all about touching people's lives and making them better—especially when it comes to the production of coffee. According to his vision statement, founder, Dean, wanted nothing more than to geek out with equally enthusiastic cafe owners. The website's blog section features stunning photography and often gravitates towards topics that revolve around building a better and more sustainable coffee community. However, you can also find important practical information about topics such as machine cleaning, reviews of cafés, or coffee news.

"We strive to grasp these opportunities that allow us to impact across each set of hands in the journey of specialty coffee; from producers to our own staff, our family of cafe owners and baristas to the coffee loving community that nurtures them." "
-FiveSenses

What you will find: 

reviews, field reports, news about events, competitions, or new launches, informative posts about topics like curated cupping, informative posts about different methods of making coffee.

Want to take a closer look? 

Well, the name really says it all with this blog! Here, creator Danijela puts her creative skills to good use in order to inspire readers to make perfect coffee at home, on their own. Without any unnecessary bells and whistles, she keeps her recipes feasible and accessible for everyone, without overcomplicating the process of getting a really good cup of coffee. Still, her creations are fanciful, stylish, and perfectly staged, making a visit to her blog a mouth-watering visual experience that makes you want to get started right away!

"I love to play with different flavors, roasts, ingredients, but I always keep my recipes fast and simple."
-Danijela

What you will find: 

recipes, brewing guides, and how-to tutorials.

he unique look of this website will make an impression on you straight away—after all, most people would probably not associate the colour pink with coffee. But this is precisely what earns Ryoko Iwata's website its place on this list. She manages to give things her own, individual twist, doing this so successfully that she even sells her designs on coffee mugs and other coffee-related merchandise items. Discovering her love for coffee upon moving to Seattle in 2009, Ryoko initially started I Love Coffee as a nice pastime. Needless to say, the blog proved so successful that she was able to leave her career in education to work on her online platform full-time. She even published a book in 2015!

"When I get bored of writing about coffee, I write about sushi sometimes."
-Ryoko Iwata

What you will find: 

coffee facts, news, infographics, quizzes, and just a bunch of visual, fun stuff related to coffee.

Want to take a closer look? 

Self-defined as a webzine, The Coffeetographer is a cultural platform where every reader can find a fine combination of art, highly curated culture, people, and the world of coffee. Chermelle D. Edwards, a passionate coffee lover and the founder of this highly aesthetic website, finds inspiration in the wide variety of culture, music, art, family and friends. Moreover, Chermelle never fails to fascinate her readers with her unique storytelling, letting her readers see the world of coffee as a culture of its own.

"This space is not a blog or an ordinary listicle of where to go in coffee and culture. Instead it is a place of highly curated culture, images of people and coffee and structures itself as a vehicle for communing, cultural anthropology and the connection economy."
-Charmelle. D. Edwards

What you will find: 

a wide variety of culture represented through the lenses of coffee editorials, music, photos, film, fashion and much more.

Want to take a closer look? 

Brian W. Jones, the founder and editor of this website, is a designer and brand consultant—and that is immediately recognisable in DCILY's online appearance! He has even lectured on the topics of coffee and design in locations all over the world, so there is a true master at work here. Other impressive milestones in his career include organising the Swedish AeroPress Competition, successfully competing in the Swedish Brewer's Cup (twice!) and co-founding the company Supersonic Coffee in California. His website is addressed at coffee enthusiasts all around the world, while placing a clear focus on design as well. Since 2009, Brian has been publishing high quality content that revolves around interweaving the worlds of coffee, culture, creativity, and design. If your are a fellow coffee and design enthusiast, you will undoubtedly be inspired by the work presented here.

"This site exists to inspire others to enjoy better coffee by promoting and supporting the highest quality beans, the most innovative design, and the creativity it fuels in people."
-Brian W. Jones

What you will find: 

a articles, reviews, commentaries, current events and news.

Want to take a closer look? 

This category in our best-of list refers to the blogs and websites that have devoted their work to exploring, reviewing, and ranking coffee shops, products, and machines all over the world. After careful evaluation on the available Coffee Review Blogs, we ended up with 11 of the best performing blogs during this year. Our criteria were clear: only those blogs most valuable to readers, the most accurate, informative, and well-structured review pages have landed places on our BEST COFFEE BLOGS list.
Maria Teresa Mancuso is a passionate about one thing—coffee! And she wants to share this wonderful passion with everyone. She has also found the greatest way to do so: by taking all her readers through her magical coffee experiences around the city of Zürich and everywhere she goes in her blog, Coffeeme.cafe. With every article she writes, you cannot but fall deeper and deeper in love with the magical world of coffee she opens up to her readers. Her work and dedication to what she does have guaranteed her a place in our best-of coffee blogs listing. Share Maria`s intimate and personal journey through the world of coffee by visiting her amazing blog.

"Coffeeme.cafe is set to become the ultimate coffee experience platform. A beautiful new logo and design, up to date articles and reviews and the new global coffee map. You are set with all you need when looking for the best coffee experience in your city or cities you travel to."
-Maria Teresa Mancuso

What you will find: 

coffee reviews and news coverages, maps of all places she has visited, and events.

Want to take a closer look? 

Do you want to be the first to learn which are the most popular coffee spots in Scotland, Edinburgh, and Glasgow? And do you want to stay up-to-date with the most current coffee shops and news? Pru Whitwell at Scotland Coffee Lovers provides you with all the information you need to know when it comes to high quality coffee places in her sharply written reviews. It is no wonder that her experience and professionalism helps her to build a long-lasting relationship with her readers.

"I started reviewing, rating and promoting Edinburgh's best specialty coffee shops in 2008. As more and more people are now enjoying specialty coffee, I've expanded to cover all of Scotland. I want coffee lovers to trust my recommendations and choose high quality independent shops because they know they'll get a great cup – and contribute to keeping small, diverse businesses alive.  Drink up and enjoy – it's good for you!" 

-Pru Whitwell

What you will find: 

coffee reviews and news coverages, maps of all places she has visited, and events.

Want to take a closer look? 

If drinking coffee is not just a morning ritual but a way of life, then Fried Coffee is the place you need to go. Starting as a passionate coffee-lover in 2012, Amit Ahuja took the long way from just writing about coffee to helping people have a high quality experience every time they pick up a cup of coffee. Relying on years of experience, Amit writes not only about good coffee but also describes how to prepare it using quality coffee makers, grinders, and gadgets. If you want to read in detail about what`s the best on the coffee market at the moment, Fried Coffee is always ready to help you with good advice!.

"My love for coffee and its various means of preparations brought me here to write about Coffee Makers, Grinders and other trending coffee making gadgets"
-Amit Ahuja

What you will find: 

coffee-maker related advice, reviews of different coffee products and machines.  

Want to take a closer look? 

After working in the coffee industry for more than 10 years, Drew Moody combined his passion for coffee with his other passion: writing; and the result is simply splendid! Corner of the Café never stops surprising its readers with absolutely amazing articles from coffee reviews to interviews—not only in the area of coffee but regarding other craft beverages as well such as beer, spirits, soda, tea, and many more.

"A Table in the Corner of the Cafe was my compromise. By starting this blog, I was able to keep one foot in the coffee industry and the other in the corporate world. A Table in the Corner of the Cafe is dedicated to specialty coffee and cafe reviews, primarily, but also features reviews of other craft beverages—such as beer, spirits, soda, and tea. Sometimes, I'll even take a moment to share some of my opinions of the coffee industry from a consumer's perspective." "
-Drew Moody

What you will find: 

reviews, alongside interviews on the subjects of coffee, beer, soda, and spirits. 

Want to take a closer look? 

Coffee Review

For 20 years Kenneth Davids and Ron Walters at Coffee Review have been providing their audience with interesting and rich information about coffee and everything related—be it products, news, or rankings. Thanks to the long years of experience, Coffee Review could be considered as one of the richest and intriguing coffee blogs out there, including thousands of reviews. By collecting a wide range of knowledge on coffee and everything related, it is no wonder that Coffee Review is one of the most influential blogs to feature in our best-of listing.

"The concept, then as now, was simple: conduct blind, expert cuppings of coffees and report the findings in the form of 100-point reviews, parallel to those in the wine industry, while educating readers about coffee with in-depth tasting reports and technically informed commentary."
–Kenneth Davis & Ron Walters

What you will find: 

reviews on coffee products and machines, news, rankings, and tasting reports. 

Want to take a closer look? 

 

What makes Pure Coffee Blog different than anything out there is that author Bill Walsh does not limit himself to less reliable user ratings or borrowing recommendations and reviews from other sources. Instead, he devotes his time and work to personally getting to know each and every one of the products included in his blog. For more than 10 years, Bill has been sharing his coffee experiences around the USA and London. If you are somewhere in the US or London and in a search for a great coffee spot, you definitely need to check out Pure Coffee Blog

"The Pure Coffee Blog exists to help people find tremendous coffee and tea, both in their backyard and in their travels."
–Bill Walsh

What you will find: 

broad information on different coffee shops and coffee products, as well as tea for the tea lovers, reviews, and guides. 

Want to take a closer look? 

When it comes to high quality, you can never go wrong with Prima Coffee. Their competence in the world of coffee goes beyond the usual coffee making advice. With a wide variety of products from coffee, brewing, and many other machines to detailed techniques on how to use, clean, and prepare them, Prima Coffee has absolutely everything one must have when preparing the perfect taste! Here you can find the best brands in the industry and the most useful tips on preparing and serving coffee, making your life even easier and showing much of the advice in amazing videos.

What you will find: 

detailed information on coffee brands, coffee machines, reviews, recipes, as well as coffee guides and videos on how to prepare, serve, and maintain all these coffee gadgets.

Want to take a closer look? 

With the belief that great quality coffee is a rare combination of the skills of a farmer, roaster, and barista, FRSH/GRND is on a mission to find the people who actually create this unique symbiosis. Aaron Frey takes us on a journey through four different countries around the globe in the search of the people who make drinking coffee a unique experience. If you are an adventurous person who loves coffee and appreciates quality when you see it, follow Aaron through Europe, Asia, Latin America, and the United States to discover the best coffee places!

""Good coffee is hard to find. I'm on a mission to make it easier. I started in Korea, moved to Sweden, and now I'm in New York, hunting for the best, and sharing the journey with you here."
–Aaron Frey

What you will find: 

coffee shop reviews, interesting stories, and guides on the best cafés in the world.

Want to take a closer look? 

If good coffee and discovering about new quality places is your hobby, do not miss Chicago Coffee by Kristin Sandgren! Make sure to follow her during her journeys through the streets of Chicago, New York, and everywhere she goes. You can find everything here from great web design to interesting articles and coffee shop reviews. There is something for everyone, and the whole package is worth checking out!

"Coffee is more than just a drink to me. Coffee shops help to bring that to the public, as well as spaces for creatives, friends, students.. and so on. After blogging for a year, I wrote a few coffee based articles for Timeout Chicago and promoted things such as the Indie Coffee Passport and Drift Magazine."
-Kristin Sandgren

What you will find: 

coffee shop reviews, coffee related articles, photography.

Want to take a closer look? 

Boot Camp Coffee is not your regular coffee blog. Boot Camp Coffee is a specialised platform focused on coffee expertise. The main goal of the platform is to educate and teach people about the fine art of coffee tasting, roasting, quality management, and green coffee production. 'What makes it special,' you might ask, well, Boot Camp Coffee provides specialised courses based on years of experience and learning. If you want to get 'hands on' with any coffee product, and explore and develop you knowledge, Boot Camp Coffee is the right place for you!

""Boot Camp Coffee is the best possible preparation before you are actually hands on with the product. Since our inception, hundreds of students have successfully completed our curriculum. We frequently release new exciting materials and videos."
-Boot Camp Coffee

What you will find: 

educational information on coffee varieties, coffee processing, sustainability, and other issues which the modern coffee industry faces; guides and tips.

Want to take a closer look? 

Every great thing starts with a simple step. This could not be more valid for The Coffee Concierge! With the simple desire to make great Mocha at home, creator Benji had 'fallen down the rabbit hole of coffee.' With The Coffee Concierge, Benji hopes to help people improve their experience of drinking coffee at home. By providing numerous tips, recommendations, and reviews on coffee products, The Coffee Concierge is on the way to making your home-brewed coffee better than anything you have tasted before. If you want to achieve a higher level of home coffee expertise, look no further!

"I will never tell you how you should or should not drink your coffee. That's entirely up to you. I also believe that coffee theory should always be challenged and frequently tested. So I will do my best to never tell you that you must make your coffee this way or that way or do this and not that. Instead, I aim to run experiments regarding popular coffee theories so I can form my own conclusions and share these with you."
-Benji

What you will find: 

coffee and coffee related product reviews, recommendations, comparisons.

Want to take a closer look? 

The world of coffee is one with an immense amount of information, and for those who LOVE coffee, information how and about coffee is never enough! Therefore, this category takes a special place in our best-of listing. Here we represent the best of the best, where bloggers devote all their effort to proving useful, quality and unique information about coffee trends in coffee machines and gadgets, recepies, updates, tips and many more. You want to find the most essential and interesting information about everything coffee-related, keep an eye on these amazing blogs!
Perfect Daily Grind was launched back in the beginning of 2015. Perfect Daily Grind is providing regular articles for anyone with a professional or casual interest in the world of coffee. The website is well-structured and divided into different sections according to the topic of interest. For example, the section called industry tips is made for coffee industry professionals, baristas, and cafe owners; while specialty coffee industry news is focused on coffee production, coffee roasting, and coffee consumption. Moreover, Perfect Daily Grind is considered as being very social—they have their own instagram, facebook, twitter, youtube, vimeo, vine, pinterest, tumblr accounts.

"Our passion for coffee comes from a sincere desire to improve the equity of resources along the coffee-supply chain; from seed to cup."
-Henry Wilson

What you will find:

Coffee production, Coffee roasting, Coffee Consumption, Coffee industry tips, Brew methods, Coffee events and Videos

Want to take a closer look?

Coffee Companion created back in 1995 by Kevin Sinnot. Kevin is a nationally recognised coffee expert who is an author of of two books and a DVD (Coffee Brewing Secrets). Coffee Companion contains straightforward, but informative reviews about different products related to the coffee world. It should be noted that Kevin does not work directly for any coffee company, therefore, his reviews can be considered highly reliable.

"Our passion for coffee comes from a sincere desire to improve the equity of resources along the coffee-supply chain; from seed to cup."
– Garrett Oden

What you will find:

Coffee brewing secrets, Art and craft of coffee, Recipes, Podcasts and Books

Want to take a closer look?

Sprudge, founded in 2008, ever since has been focusing on creating content related to the coffee industry. Sprudge has over seventy writers around the world and, therefore, they are generating unique and interesting content that is at the same time up-to-date. Sprudge featuring detailed interviews made with world's leading baristas and cafe creators. On top of that, Sprudge provides its readers engaging guides recommending places all over the world where coffee lovers can enjoy themselves behind a delicious local cup of coffee.

"Your home for global coffee culture and original journalism. Sprudge has been publishing original features highlighting coffee culture, news, and events."
– Sprudge team

What you will find:

Podcasts, Recipes, Reviews, Guides, Shop

Want to take a closer look?

Cups of London Coffee blog's main scope of interest falls on London's Coffee shops, therefore, much of the content is targeted at readers based in London, England. Daniel, Cups of Coffee blog's owner, has been exploring local coffee shops since 2012 and sharing with his readers best local spots and help avoid high-street chains and he is sure that local independents can offer unforgettable coffee experience. Moreover, Daniel is always sharing the history and background stories about Coffee Shops with his readers, which makes his readings not just informative but also interesting.

"I try to help you find local spots, keep you up to date with events hosted at coffee shops and help you avoid high-street chains when local independents can offer so much more."
– Daniel

What you will find:

Reviews, Recommendations and Interesting facts

Want to take a closer look?

Tim Wendelboe contributes to the coffee industry by adding irresistible flavours and great quality content. Being nominated at Norwegian Barista Championships and awarded for Gourmand World Cookbook in 2009, he manages his own company and creates addiction for the real coffee lovers. 'Our goal is to create a product that is as transparent as possible so that you can experience the taste of the terroir and the cultivar of each and every coffee lot that we sell.

"All our coffees are carefully sourced from our favorite origins based on a philosophy where quality, traceability, innovation and social responsibility is the main focus."
– Tim Wendelboe

What you will find:

Guides, Shop, Accessories and Interviews

Want to take a closer look?

 

 

Let's Grind Some Coffee is a blog what gives its visitors comparisons and reviews about coffee grinders, espresso machines, coffee makers, and regular coffee makers. Opinions about the products are based on extensive research along with personal experience. When talking about guides, visitors can find the ultimate guide how to find the best coffee beans together with product recommendations. Moreover, Let's Grind Some Coffee blog offers its visitors convenience by giving the possibility to learn the most essential information about coffee quickly by giving the possibility to navigate quickly through whole blog.

What you will find:

Guides, Reviews, Comparisons

Want to take a closer look?

The folks at this Canadian enterprise have been providing their customers with kick-ass coffee from their core location in the Canadian Rocky Mountains for more than 20 years, and show no sign of slowing down. On the contrary, Kicking Horse Coffee has been raking in a variety of awards for their work, so it is not surprising that their blog section would also be featured among the very best. They deserve to be mentioned in this category in particular, because their modern and highly instructive blog mainly provide information on everything coffee, in addition to featuring current company news. Despite this wealth of information, however, they never lose sight of also stressing and communicating their core values of sustainability and fair trade, while also managing to maintain a clear connection to their native Canada.

"Our mission is to stimulate the planet with the ultimate wake-up call. We have some big ideas — ideas that go way beyond mere profit. These ideas govern everything we do, from buying only Fair Trade, organic beans to helping sustain our own community"
– Kicking Horse Coffee

What you will find:

basics (coffee 101), current company- and coffee-related news, how-tos, interesting stories about blends, lifestyle topics, and coffee production.

Want to take a closer look?

 

Coffee Brew Guides is a coffee blog with a goal to share information about coffee world. Creator of Coffee Brew Guide, Garrett Oden, is a freelance copywriter and blogger for food, beverage, and travel businesses. Garrett is a phenomenal writer with a true passion for bringing out most interesting topics in a very interesting and well-structured way. Coffee Brew Guides offers to its readers broad scope of topics, from hand grinder reviews to guides how to eliminate coffee ground static and personal interviews.

What you will find:

Reviews, Comparisons, Interviews And Tips

Want to take a closer look?

 

No doubt CRS Coffeelands holds a well-deserved place on our list. Accomplishing its essential job as both website and an organisation, their work is worth paying attention to. Following their work would impress anyone—CRS Coffeelands go beyond the 'normal' work of a website. By collaborating with smallholder coffee farmers, CRS Cofeelands work towards equality in the coffee industry in every meaning of the word. If you want to learn more about not only the world of coffee but also how this industry expands in areas like manufacturing and retail and what it all means, no doubt you need to keep an eye on this webspace.

"The coffee trade may be centuries old, but there are still significant gaps in our understanding of coffee agronomy, the coffee economy and the social impacts of coffee. The Coffeelands Program supports original coffee research to narrow our knowledge gaps and improve decision-making on the farm, in the policy-making process and in the industry."
– CRS Coffeeland website

What you will find:

interesting and useful information about the coffee industry, interviews with farmers and organisations, alongside a lot of updates and news on the subject.

Want to take a closer look?

This category comprises blogs and websites whose creators manage to think out of the box a little when it comes to coffee. While many still provide basic information and some reviews, what makes this selection unique is that each of these creators has managed to combine their own personal passions with the love for coffee, thus creating new products and highly engaging online-experiences!
Dedicating their work on exploring cities and coffee shops all around Europe, it is no wonder 'European Coffee Trip' enjoys the success that it currently has.With more than 26,000 well-deserved followers on Instagram and 16,500 on Facebook, Ales and Radek let their readers become part of the exciting experiences in more than 100 cafes in more than 19 countries. With every new post, Ales and Radek open the door to a whole new experience full of amazing stories and adventures. If you want to feel as if you are part of this traveling duo, don't forget to check out their blog!

"We have started European Coffee Trip in 2014 with the goal of exploring the speciality coffee culture of Europe. We want to show our readers where to drink great coffee all around Europe as well as inspire them through our articles, videos, and photos."


What you will find:

great reviews, helpful city guides and interviews, current coffee events, photography, and much more.

Want to take a closer look?

Elizabeth Haddad, the creator of The Coffee Experiment, has done a truly remarkable job in uniting various things close to her heart. What makes this an unconventional coffee blog is the fact that it revolves much more around the thoughts shared over a cup of coffee, and the intimate atmosphere it can create. While you will still find the usual useful information typical for coffee blogs under the category 'COFFEE 101,' there are many more sections focusing on the social and spatial-aesthetic aspects connected with having a cup of your favourite brew.

"I spend much of my time in coffee shops, writing, meeting people, or simply being."
– E. Haddad

What you will find:

Since February 2016, the CONVERSATIONS, TRAVEL, and DESIGN sections have been added to Elizabeth's information on coffee and brewing methods. They focus on people, coffee-related travels (as well as non-coffee-related ones), and the design of spaces where people have coffee.

 

While not technically a blog, Handpresso qualifies for this category since the creators went to new lengths in order to ensure that everyone gets their coffee break—anytime, anywhere. With its small, hand-held and entirely portable machines, even travel-lovers and outdoorsmen can enjoy a freshly made cup of coffee while pursuing their favourite pastimes. The creators went against the grain of coffee machine trends at the time and it evidently paid off!

"With its portable espresso machines, Handpresso truly revolutionised the espresso market, to the delight of its inventor. As a great espresso lover on the move, he wanted to be able to travel with an espresso machine."
– Handpresso team

What you will find:

a variety of portable coffee makers for people on the road, outdoors, on the water, or on holiday, complete with the appropriate supplies and accessories.

Want to take a closer look?

You do not find many blogs out there who dedicate so much time and energy to teaching people how to up their barista game. Latte Art Guide was created as a platform for baristas of all skill levels—or even just aspiring baristas. While equipment reviews are also provided, the detailed and playful how-to guides about making your own latte art form the clear centrepiece of this charming blog. With tutorials of all levels of difficulty and high quality videos accompanying most instructions, you won't need much more than this blog to impress your next visitors with some artfully designed cup of brew.

"Latte Art Guide is a place where baristas of all skills come to share their love of coffee."
– Ivan, barista & author of Latte Art Guide

What you will find:

a blog and news section accompanied by product reviews, as well as a section teaching you basic coffee skills followed by art guides ranging from beginner to advanced.

Want to take a closer look?

For some, the love for coffee goes beyond the normal admiration of an amazing drink. For some it`s not just a drink, it is a culture, a craft and a lifestyle. This category represents the most successful blogs that go deep into the world of coffee. Following these blogs will provide you with the most qualified advice, tips and comparisons between different brands, trends and so on. Created by proffesionals, you can never go wrong with following them!
Do you have a rich imagination and enjoy humorous scenarios? Do you ever wonder what some of your favorite fictional characters would order in a Starbucks? Well, Literary Starbucks gives you the answer to this question. If you like to think and act out of the box, the trio—who are English and History students—Jill, Wilson, and Nora are your type of people, and Literary Srarbuck is exactly your type of blog! This blog takes us to completely different and imaginary lands every time these three friends come up with a new surprising scenario. If you love coffee, but you would love it even more when it`s spiced up (in a humorous way), this is the perfect place for you!

"One day we thought, what would all of history's famous authors and characters order if they lived in modern times and went to Starbucks? The rest is history." "
– Jill, Wilson and Nora

What you will find:

interesting and hilarious scenarios, involving historical characters

Want to take a closer look?

Coffee In My Veins is a high quality blog offering its readers detailed reviews about coffee machines and various guides. The latest review is focused on the most expensive coffee makers in 2017, featuring 10 machines with a price range between $12,500 and $1,000,000. Another interesting category Coffee In My Veins features is called Coffee and Health where they are providing information regarding coffee's health benefits and how to have healthier relationships with the beverage.

"Coffee quite literally runs in my veins! It's one of my favorite parts of the morning, and nothing quite beats waking up to a fresh cup of coffee every day. The aroma, the varied taste, and the caffeine buzz are all part of the warm, comforting experience. I believe that coffee is something to be enjoyed and cherished, so I created Coffee In My Veins to share my passion and energy with other coffee-minded people."


What you will find:

Reviews, Comparisons, Guides, Recommendations, Coffee and health and Facts

JimSeven is a simple blog with a creative and well-structured content made for coffee lovers and professionals. The owner of this blog is a man called James Hoffmann, who has been writing about coffee and the industry as a whole since 2004. It's not a secret that James loves short texts; therefore, all his content is relatively short, but at the same time, very informative and to the point. Besides writing, you can also find podcasts and Question & Answer videos on Youtube, where every reader has the possibility to ask a question through Twitter.

"Coffee has never been better, or more interesting, than it is today."
James Hoffmann

What you will find:

Brewing guides, Recommendations and Podcasts

Want to take a closer look?

The Coffee Collective is a coffee roastery with three coffee shops based in Copenhagen. In their coffee shops, they aim to set new standards for coffee brewing and serving, and to keep exploring new potentials of coffee. In the Coffee Collective blog, they provide original content where they feature their recent travels to Ethiopia where they have been looking for new coffees and bringing farmers together. Another remarkable piece of content you can find on their blog is their personal short brew video guides.

"The dream that drives The Coffee Collective is to explore and unfold exceptional coffee experiences in a manner that gives better living conditions to coffee farmers across the globe."


What you will find:

Information about coffee farmers, Coffee wholesale, About Coffee shops and Information from exotic countries

Barista Hustle was made with the goal to make better coffee. Excellent knowledge about the coffee world comes from an experienced team of baristas, a world champion coffee brewer, and a barista who is leading the organisation in Australia. Their blog provides its readers with lots of varied learning resources, for example technical coffee brewer comparisons—and how the temperature affects the whole process—revealing interesting recipes, and detailed displays of the roasting process and how bean colour plays into it.

"Barista Hustle is here to help the world make better coffee, and we're incredibly proud to be part of such a vibrant and exciting community."


What you will find:

Guides, Comparisons and Interesting facts from the world of coffee

Want to take a closer look?

The Coffee Compass says that coffee, as a product, is very complicated, but at the same time, a beautiful craft. Content provided by The Coffee Compass is informative and always focused on coffee taste—especially how quality products are made and which factors affect taste. Their last post was about iced coffee where they analyse the taste, common problems and what causes them, as well as how to achieve the perfect taste at home and what tools are essential in order to do so.

"If you're enjoying a craft cup of coffee, that didn't happen by accident."


What you will find:

Guides, Comparisons and Recommendations

Want to take a closer look?

I Brew My Own Coffee opened its door back in 2014, and ever since they have been providing podcasts for people who care about coffee. Podcasts are hosted by Brian Beyke and Bryan Schiele and feature various product recaps and interviews. For example, the last serie of interviews was done at SCA Expo and contained four quick conversations with some of the top brands in specialty coffee for the home brewer. Moreover, it should be noted that their podcasts are also feature very unique information, for example, an interview about cost of coffee with the producers of some of the world's most expensive and prized coffees.

"Our main motivation is to provide space for honest, courteous, and thoughtful conversations about home brewing and coffee in general."


What you will find:

Podcasts, Recommendations and Guides

Phil & Sebastian Coffee Roasters were bonded over a shared love for fine things since being at university and after some time—their common tastes later turned into a profitable business. 'What we do know is that for both of us this has always been a labour of love. We're engineers and coffee lovers first, and businesspeople second. Along the way the bumps on the road have taught us to keep an eye towards sustainability, but for the most part our focus is where it's been since day one, creating great coffee and sharing it with folks that appreciate it.

A book changed our lives
– Sebastian & Phil

What you will find:

Event calendar, Wholesale possibility, Shop, Features, Guides and Recommendations

Want to take a closer look?

Coffee Supremacy is not just another ordinary coffee blog just because their main goal is to inform you about the latest news from the coffee industry. It is actually a very useful guide on where to buy the best coffee beans depending on your tastes and preferences. It helps to mark the difference between the best coffee machine brands and help you make the right decision. They are trying to update you with actual information about the new tastes and reviews. Our suggestion is to go and start exploring the site if you have not done so before.

 

What you will find:

About coffee beans, Ground coffee, Guides, Tips and Shop

Want to take a closer look?

With a great variety of coffee specialties, flavoured teas, and coffee makers, Seattle Coffee Gear is one the best in its industry. People chose them because their main focus is on people, they know their machines inside and out and offer beneficial services for their customers. Would you like a cup of coffee now? I am sure you do, so I suggest you to visit one of their shops and feel the real taste of fresh roast.

"Seattle Coffee Gear is the answer to a very specific question: How can I make an excellent cup of coffee at home"


What you will find:

Event calendar, Videos, Rankings and Comparisons

Want to take a closer look?

The blogs in the following section simply welcome everyone who loves coffee—or even those who just want to get to know the world of coffee a little better! Emphatically welcoming everyone into their coffee community, they provide a broad range of information, reviews, how-tos, history, and fun facts. Every casual coffee-lover will certainly get their caffeine kick with the following entries.  
With her motto, 'Coffee > Everything!,' Claudia Looi perfectly sums up her inclusive views on the coffee community in a nutshell! For her, coffee has the power to go above anything else that might separate people from one another, be it religion, sexual orientation, culture, or even time itself. Focusing very much on the social and socially connecting aspect of coffee, her blog provides a welcoming atmosphere for any coffee fan or rookie. If you are in any way interested in coffee, that is what unites you with the community in her eyes, thus making you part of the CoffeeSphere.

What you will find:

information on coffee shops and producers from all over the world, reviews of coffee equipment, how-to tutorials and answers to all questions coffee (including even a history of and future outlook for the world of coffee!).

Want to take a closer look?

Michael Allen Smith has been providing coffee fans such as himself with high quality information about coffee brewing for a solid 18 years. Originating in Seattle, Washington, his website has the aim of both celebrating really good coffee and giving other coffee-lovers the opportunity to improve their own brewing skills. With a focus on empowerment, Michael is helping the community grow by sharing his knowledge and considerable experience. So if you are looking to improve your brewing skills, or are just starting to learn how to make a really good cup of coffee, you have certainly found the right place at I Need Coffee.

"In the late 1990s, I was very interested in both web development and coffee, so I started INeedCoffee. And now, 18+ years later, I am still very much interested in both topics!"
– Michael Allen Smith

What you will find:

a wide variety of easy-to-follow, step-by-step guides concerning both the brewing and home roasting of coffee.

Want to take a closer look?

This is the place to go to if you are eager to discuss your view of everything coffee with other coffee fans. The creators are taking a step back in this case, giving other coffee enthusiasts an opportunity to make their voices heard and share their opinions in different forums as well as articles. Even if you are not that keen to contribute, this site will provide you with varied insights into the coffee-community, from the barista's opinion to the farmer's perspective. On top of that, you will also find many helpful reviews and guides about everything coffee.

What you will find:

opinions by columnists and interviews with professionals, reviews (both by consumers and Coffee Geek), guides and how-tos, as well as a variety of discussion forums.

Want to take a closer look?

Resi, the self-proclaimed 'beaniac' behind this visually appealing blog, is constantly trying to find new and inventive coffee places all around the world and introduce them to her readers. Of course, great coffee plays a crucial part as well! From tiny, undiscovered places to well-established companies, she does not discriminate as long as the coffee is delicious and the atmosphere is cozy and unique. What makes her blog so accessible and relatable is the fact that she has visited every single place she includes on the site herself, so her readers get very personal descriptions about what made her fall in love with it!

"I personally stick to drinking coffee or writing about it."
– Resi

What you will find:

city guides based on great coffee places, and a specialty coffee blog including descriptions of and interviews with a variety of fellow coffee lovers, farmers, and entrepreneurs Resi has met on her travels.

Want to take a closer look?

Coffee-blogging veteran, Randy Glass, has literally been writing and sharing information about coffee before the term "blog" started to be used for platforms such as his, and thus, accordingly, describes his site as an 'Internet novelette.' The highly personal style in which the blog is written makes it particularly accessible, building upon Randy's long experience within the world of coffee. You know there is some serious experience and love for detail behind a blog when the author describes the process of choosing, buying, and operating your first espresso machine in no less than sixteen chapters! On top of such personal experiences, Randy also provides how-to sections, reviews, and links to other useful sources for anyone who wants to immerse themselves in the world of coffee.

"Personal experiences, mistakes, coffee shows, opinions, rants and raves, and more are documented."
– – Randy Glass

What you will find:

personal stories and experiences (in a diary/journal-style), useful links, educational pages for those who want to learn more about coffee, information about different methods of making coffee, how-tos, and reviews.

New Zealand-based digital brand strategist Peter Thomson started out as a casual coffee drinker himself, being more or less dragged into the world of advanced coffee criticism by an acquaintance. His blog, The Coffee Hunter, provides a variety of information about the café scene, making it a must-read for everyone who is looking for good coffee in places such as London or New York.

"I love coffee because it's a product where passion, craft and design come together to create a total experience."
– Peter J Thomson

What you will find:

café reviews, how-tos, interviews with baristas, news on the café scene.

Want to take a closer look?

Few coffee companies have managed to reach as broad an audience as Starbucks, and this is the blog where they give back some of the love and passion to all coffee enthusiasts. 1912 Pike, the address of the very first Starbucks store in Seattle, reminds users of the company's origins while at the same time foregrounding the people and the community instead of the company—which is also clearly visible in the way this blog is realised. In essence, it is a collection of relatable human stories through which you can get to know and understand what the company does and how they do it. From the process of coffee production to funny interludes with Spiderman in a New York Starbucks, this blog provides a rich variety of content that is as diverse as the company's real-life customers.

"In the end, coffee is all about community."
– 1912pike.com

What you will find:

recipes and how-tos, information on the drinks themselves as well as the production process of coffee, human stories about people and places, and just general trending cool stuff connected to coffee.

Want to take a closer look?

Nathan Quillo, owner and founder of Quills Coffee , started out as a passionate barista, sharing his knowledge with friends and colleagues. In 2007, he opened up the first Quills in Louisville, together with his brother. Their website, while also providing a shop, has been included in this list due to its well-written and community-focused bog section. Here, you will find information about different kinds of coffee, and where and how they are produced as well as pieces on the art and decorative elements that make a coffeehouse such a cozy place for people to socialise and feel at home in.

"The magic of a coffee shop is that once that environment is created, it becomes not just what the staff makes it, but what the customers make it. A true community happens."
– quillscoffee.com

What you will find:

information on events, menu items, new products, coffee imports, and more!

Want to take a closer look?

This is another case in which coffee roasters have been included in this list for providing an excellent blog section as part of their web appearance. Their community-oriented approach is visible throughout the entire website, however, with their main aim being the development and promotion of better coffee businesses. Their blog section provides a very broad range of information for anyone interested in the world of coffee—be it the ecological side of it, the process of growing coffee, or developing barista skills. Additionally, you can discover both product and café reviews, as well as travel experiences and impressions collected on coffee-related trips.

"Since setting up shop in 2000, our humble operation has grown into a team of coffee lovers who bring a wealth of experience […] to the table."
– venezianocoffee.com

What you will find:

café reviews, origin trip journal entries, news about coffee blends and the coffee industry in general, product reviews, articles on personal experiences, training posts.

Want to take a closer look?

The Directory

From farmers to green merchants, this blog by Charlie Murray has everything for everyone who loves coffee. Following Charlie during his journeys to different destinations around the world captivates at every step of the way. If you want to find out about the best specialty coffee spots in hundreds of exsotic destinations, join Charlie! Combining his amazing talent as a photographer with passion for what he is doing is what makes this blog a must-read coffee blog for every coffee lover around the globe.

"For farmers and green merchants. For roasters and equipment makers. For drinkers. This place is for you."
– – Charlie Murray

What you will find:

helpful reviews, coffee related news and interviews, as well as awesome photography.

Want to take a closer look?
Phew! And that's it from us. We would like to thank all the blogs, sites, podcasts, websites, and webzines that work so hard and make all of this possible! Thank you for bringing out the most vibrant aspects of the world of coffee for all of us to enjoy, and for taking part in this year's best-of list! Keep up the great work! If we forgot to include any intriguing coffee blogs or if you have a question or suggestion about this award, please do not hesitate to contact us!
We release this list annually, and have recently released the list of the Top 10 Coffee Blogs in 2019!