In 2018, web designers pushed forward and embraced new developments and challenges in the ever evolving web design world.
What are the biggest web design trends of 2018, and which of them will continue in 2019? We asked 40 experts for their insights into web design trends and which of them have the greatest impact in 2018. We analysed their top picks and laid them down in this post. 
Check out the list of experts who contributed.
The infographic, created by Market Inspector, sums up the top 15 web design trends for 2018, but if you're interested in reading about a particular just click the link below:
These are the top 15 web design trends in 2018 that are most popular according to the experts. Bold colours and gradients stands top of the list in 2018 although it has been rising in popularity since two years. We can also see that websites are thinking mobile first when it comes to web design because of the rise in the usage of smartphones.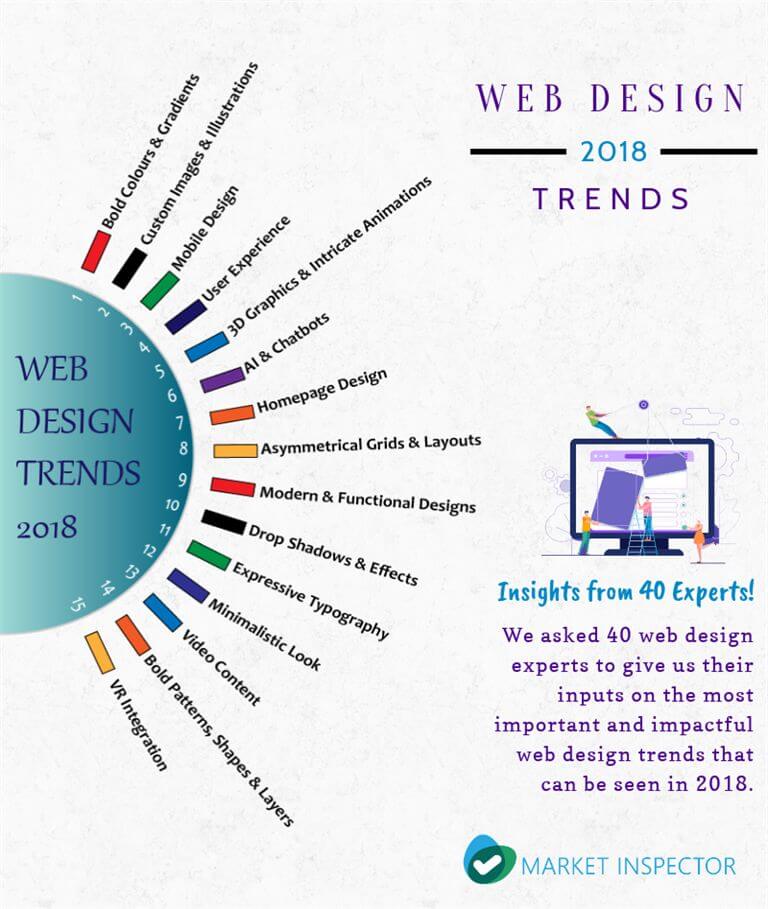 If you would like to use this infographic on your website, use the embed code below:
1. Bold Colours & Gradients
In 2018, designers are experimenting with various colour schemes that are bolder and more vibrant. Gradients attract the user's attention and the usage of them has become a trend only in the last two years. It's popularity is known to continue in 2019 as well.
Designers say that vivid colours will set up a colour revolution in web designing. They seem to support flat web design which is otherwise becoming stagnant.
It's essential that users are able to read your website under all lighting conditions, and also on mobile. Designers are paying more attention to cater to all kinds of readers, including those with colour blindness.
Contrasting colours and gradients are used strategically on white backgrounds, which looks very modern in many niches.
So, bold and contrast colours along with gradients are the trend that can be commonly seen in 2018.
2. Custom Images & Illustrations
Illustrations capture the user's interest and can be processed better than content.
However, we've seen a lot of stock images and have turned blind to them as there is no originality.
Custom illustrations and images are therefore the focus of 2018 and the years to come. They help in storytelling and branding your website to the targeted users.
To stand out among the millions of websites in the digital world, it's a necessity more than a trend to maintain originality through custom images and illustrations. They have their own personality and can depict what your brand stands for.
Whether you're a casual or a serious website, you can have illustrations tailored to your style and how you want to be perceived by potential customers.
Custom images and illustrations will continue in popularity even in the coming years, because there is no end in creativity.
Multinational companies like Dropbox, Google, Slack, Hubspot, etc., are all using custom illustrations as part of their branding, which tells us why their brand colours and designs are so well known to us.
3. Mobile design
The importance of thinking mobile-first cannot be emphasised any more than in 2018. Not just in terms of making the search engines happy but also for enhancing user experience because almost everyone using internet has got a smartphone in 2018. Duh!
This is a trend with utmost importance according to web designers, as it has the most significant impact in 2018 and the years to come. Designers think about the user experience first when it comes to designing websites and there's an increasing trend of mobile browsing that will shape the future.
It changes that way sites are being designed and displayed to the user. Websites are focusing on being fully responsive and adding features that makes it simpler to look like mobile apps on smartphones.
It's a trend that has been picking up in the last couple years and the importance is known to peak in the near future.
The amount of content written for mobile and tablet users is also tailored so they don't have to read long articles as they would on a laptop or desktop.
Another huge focus within mobile design is the page loading speed. Web design companies are making sure that images and content do not take away the browsing speed, because slow loading pages lead to loss of visitors.
Easy to navigate, mobile friendly websites are a huge trend in 2018.
4. UX – Speed, Simplicity, Security
One of the biggest trends we're seeing this year is a special focus on UX.
Making things easier for the user is of utmost important to web designers. There are multiple points of focus when it comes to delighting the user.
Speed, simplicity, and security are three main factors that will affect UX. Designers are working on page loading speed to increase happy prospects and having them convert. There's a special focus on speed to be able to rank on Google as well – both for desktop and mobile website design.
Everyone's impatient these days, and given the number of websites out there where users can find information, it's essential for a website to keep up with the speed of the changing times to stay competitive.
Of course, there is then the simplicity and convenience factor where you focus on making it as easy as possible for the user to convert. Amazon does this with their one-click payment feature, thereby making it super easy for buyers.
With the new GDPR law in Europe, designers are putting special focus on protecting the privacy of users and their personal information.
Web designers in 2018 say that this is a trend that has a special focus this year.
5. 3D Graphics & Intricate Animations
Web designers are looking at interactive elements to increase user engagement and to grab their attention.
With the rise of animated videos and interactive content, designer are prominently using original graphics and animations as the focal point or as a complementary piece of a page's design. They are being used by a lot of tech companies to show how their technology works.
Designers advice to keep the animations subtle but meaningful. They should be able to catch the attention but not distract them from the converting content of the site.
3D graphics add a lively and fun dimension that is very engaging. These trends should be carefully implemented as you don't want to lead the user in a different direction other than your goal.
However, web designers say that it's important to keep load time and simplicity in mind while aligning to these trends.
6. Artificial Intelligence & Chatbots
Chatbots perform multiple functions like bookings, FAQs, capturing leads, and many more. This conversational design trend has been huge in 2018, and will continue in the next few years.
Chatbots and voice search interfaces are pushing designers to think of user experience in a whole new way. They have been incorporated into web design and web applications and have seen a significant increase in user satisfaction, web designers say.
What's most interesting is that users who do not have a long attention span have this feature under their command, as it provides only the information that they they are looking for.
7. Homepage Design
Another popular web design trend is the one page site, where the main page or the homepage of the website is turned into a landing page instead of a vehicle to propel people to other pages.
This is also a consequence of a growth driven design whereby you publish a handful of pages and start building newer pages based on data rather than merely doing it for search engine rankings.
The data driven approach of web design leads to keeping sites smaller and easier to manage and optimise.
The goal is to focus on simplicity and storytelling which are big trends in 2018.
8. Asymmetrical Grids & Layouts
Asymmetrical grids and layouts are so commonly seen in 2018, suggesting clearly that many websites are moving towards this trend. The biggest trends within these are grid layouts with uneven alignments and overlapping elements.
We've traditionally seen horizontal text breaks for one-page layouts. The asymmetric break up sections is much more modern, and designers are directing the users strategically for more interactive experiences.
9. Modern & Functional Designs
Customers are moving towards a more modern design workflow,compared to the traditional flat design – which by the way still works. It is just getting a bit more refined with the usage of stylistic components.
Web designers are inclined towards flat design because it allows the interface to be more streamlined and proficient, and it looks sharp on high definition screens.
Designers see a clear focus on simplifying elements and conveying the overall message in the best possible manner. Conveying the message through imagery and web copy is more important than having a high end design that doesn't support the communication of key elements.
10. Drop Shadows & Effects
Drop shadows are used to create the illusion of depth that makes content look multi-layered instead of flat. This has been a huge trend in 2018. It's also a way to emphasise specific messages.
Designers are using multiple effects like the glitch effect, ruined effect, colour channels effect, and the usage of double light and exposure.
This effect transforms simple compositions into new, edgy, modern looking ones.
11. Expressive Typography
Typography as a trend is getting bolder this year to make websites stand out from the crowd. Catchy and creative typography is being turned into artwork. Designers are using expressive typography with creative font styles on a clean white space background.
Whether you are using neon serifs or bold and brash symbols, unique typefaces are ideal methods of branding a website and making it one of a kind – something every brand strives to do.
We don't read long content on the Internet. We usually scan read, which means websites need to ensure that their most important messages stand out.
12. Minimalistic Looks
In 2018, designers have been finding a balance between creating a website that stands out while still trying to achieve a minimalistic look.
Using large amounts of white space between elements allows for a clean design that focuses on one one message that is either written or a visual element.
Increased white space and decreased clutter is something designers are aiming for in 2018.
13. Video Content
We've been hearing about the video trend all over the internet in 2018, and many large brands are creating content with background videos to give an in-store experience to their brands or online products.
Sites are moving from images to video content, especially due to the rise in video content across social media having a viral impact on consumers.
The rise of video is one of the biggest web design trends in 2018 as it has made designers create stunning websites and increase their visitor engagement rate.
From an eCommerce design perspective, we see a lot of clients that want to reach people through different video content. Along with writing product descriptions and sharing professional photos on product pages, many websites want video content to showcase each of their items.
Though this may be an expensive trend for startups or small businesses, there are various DIY video making platforms available today that make it easy for all levels of businesses to have video content on their sites.
14. Bold Patterns, Shapes & Layers
This is one of the most consistent trend seen by web designers over the years. Many sites have geometric patterns, shapes, and layers incorporated into their website design this year which makes them appear more dynamic and no longer flat.
There is also a trend of abstract objects, curves and rounded angles which most designers prefer to use as they look great both on desktop and on smartphones. Flat design gets more depth with soft, realistic, and layered objects.
15. Virtual Reality Integration
Web designers are experiencing many clients asking about incorporating VR elements into their websites to give their customers a 'touch and feel' experience that makes the online buying process more interactive.
Websites have started investing in VR and we can see this as a trend to grow in popularity in the coming years.
Although this doesn't seem to be the top of the list of web design trends this year, it has great potential in various industries like travel, child development, education, and eCommerce.
Thanks to all the experts, listed below, who contributed their insights on web design trends for 2018.