What Coffee Machine Do You Need for Your Office?
When choosing an office coffee machine, you have a broad range of options: you can choose among different sizes, types, and brands. The choice of coffee machine for your workplace will depend also on what type of coffee you want. In fact, you can use from fresh coffee and instant coffee to coffee pods or capsules and hot drinks in your coffee machine.
Machines can go from small, tabletop units, to larger, floor standing coffee vending machines, depending on how much space you have available in the workplace and what is the minimum capacity you expect.
These factors will obviously affect the price as well. However, most of coffee machine suppliers offer leasing and renting options.
If you search for new coffee machine, fill in the form and our sales team will prepare up to four quotes, tailored to your needs. Sending us a request form is free of charge and comes without any obligations.
Should You Buy, Rent, or Lease an Office Coffee Machine?
Buying a coffee machine for your workplace is a cost-efficient choice in the long-term. By purchasing a coffee machine, you gain ownership of the machine right away, you are not bound to any agreement with the supplier and you are able to choose not to buy refurbishments for as long as you please. Moreover, you can choose to use thecoffee beans of your choice and other products like hot chocolate and tea.
However, buying a coffee machine can have its disadvantages, for example, a high initial investment and full responsibility in case of breakage or malfunction. Moreover, you will need to take care of refurbishing by yourself and you will not be able to update your unit at a reduced cost (or for free) if you want to try a new model.
Renting and leasing an office coffee machine can be good options depending on what you need for your workplace. With renting or leasing agreements, you do not gain the ownership of the machine right away, although in many cases you have the option to do so for a low fee at the end of the contract. Moreover, you might be bound by a contract to buy a certain amount of refurbishments exclusively from the supplier.
How Much Does It Cost to Rent an Office Coffee Machine?
Renting a coffee machine ranges from £5 to £70. Renting a coffee maker is mosty a short-term solution, and the price is calculated per week, making the cost very easy to absorb. A lease is for longer periods and payments are on a monthly basis. The investment is still not as heavy as when buying a coffee machine.
Ownership & Services

|   | Payment | Ownership | Refurbishment | Maintenance |
| --- | --- | --- | --- | --- |
| Buy | One time | Of buyer | On buyer | On buyer |
| Lease | Monthly | Of supplier during lease, with option to acquire in the end | As agreed, usually on supplier | As agreed, mainly on supplier |
| Rent | Weekly | Of supplier | As agreed, usually on supplier | As agreed, mainly on supplier |
Fill in the form in just 1 minute
How to Choose an Office Coffee Maker According to Your Needs
There are several factors that need to be considered when choosing the best coffee machine for your office. Size of the machine, type of coffee, and brand are the main things you need to consider when making the decision. Certain brands like Franke coffee machines have a wider range of products that cater to all kinds of businesses, while other smaller brands might specialise in specific types of office coffee machines.
When deciding what size your commercial coffee machine should be, you will need to estimate the number of cups of coffee that the coffee machine will likely dispense every day. This will firstly depend on the size of your business and the number of employees or customers that will be using the machine on a daily basis. Moreover, the space where you want to place the machine should be kept in consideration, as well as how many units of office coffee machines you are willing to buy or rent.
Find more information on prices of coffee machines for different office sizes:
Best Office Coffee Machines for Small Businesses 
Small offices usually do not have the need for big, expensive coffee machines. They typically prefer cost efficient units that meet the consumption level of just a few employees and visitors. The following are the most common types of coffee machines for small businesses.
Filter Coffee Maker: the classic filter coffee machine is always a good choice, as it will probably satisfy the basic coffee needs of your employees. You can choose to get a filter coffee maker with one or two pots and you can use your coffee of choice for this machine.
Capsule or pod coffee machines: one of the best solutions for small offices, where coffee consumption is not very high. They are very compact, small, stylish, and can fit in any interior. The initial price of these units is relatively low, making them very affordable machines, and the cost of servicing and maintenance is almost null.
Espresso maker:  these machines require a lot of manual operation and are most appropriate for small offices where employees are coffee lovers that prefer premium quality, but who also don't mind cleaning up after themselves. If your staff craves the perfect espresso shot with a high caffeine per unit volume, an espresso coffee machine is an investment that will be greatly appreciated.
Tabletop vending machine: this type of office coffee machines is very convenient for small offices because it can offer several coffee options while still not taking up too much space. A table top coffee machine can be placed on a countertop or a table and can deliver coffee in a quick and efficient way, without need for cleanup after use.
Prices of Coffee Machines for Small Offices
If you need a coffee machine in a small office space, buying one might be a good option for you. Leasing may still be convenient, especially for machines with pods and capsules or for those that use instant coffee, as you may agree on a fixed periodical supply of refurbishments for the machine.
Prices depend on the type of agreement and on the machine, but a lease can be as low as £9.99 per month for a small tabletop vending machine. Renting is especially suitable if you are planning to use the machine for a few weeks or months, in which case you could rent an office coffee machine for as low as £5 per week.
Prices of Small Office Coffee Machines

| Coffee Machine | Price Range | Average Price |
| --- | --- | --- |
| Filter Coffee Machine | £25-250 | £50-70 |
| Capsules or Pods Coffee Machine | £25-200 | £50-70 |
| Espresso Maker | £35-700 | £200 |
| Tabletop Coffee Machine | £200-900 | £500 |
Best Office Coffee Machines for Medium-Sized Workplaces
Tabletop vending machine – a coffee machine of this kind can be of slightly bigger size in order to cater to medium-sized offices.
Integrated coffee machine – a built in coffee machine that is usually fully automatic and very convenient. It is important to note that they are part of an integrated kitchen system, meaning they require extra space and are often specifically designed for kitchen modules. For this reason, they cannot be installed separately.
Small floor standing coffee machine – a floor standing machine usually offers a good variety of hot drinks and can be a very efficient solution for your office coffee needs. These machines can be placed anywhere in the office and are standalone units, usually plugged into the wall, and they can be either connected to the plumbing system or have a water tank.
How Much Is It to Hire a Coffee Maker? 
If your office coffee machine is supposed to cater to a medium-sized business, you might want to consider leasing instead of buying it, since the initial investment required for a purchase could be significant. In case you decide to go for a built-in office coffee machine your options are limited to the purchase since it is going to be an integral part of your kitchen.
Buying, Leasing & Renting a Medium Office Coffee Machine
Coffee Machine
Buy
Lease
Rent
Tabletop Machine
£400-1,500
£15,50-25/month
£8,50-12,50/week
Plumbed In Coffee Machine
£200-3,700
(Average: £2.500)
Cannot be leased
Cannot be rented
Small Floor Standing Machine
£600-3,000
£12.50 to £15.50 /month
£8.50 to £12.50 /week
Best Office Coffee Machines for Large Office Spaces
If your business is very large, your best option is a coffee vending machine. In this case too, you can choose among different types.
Floor standing coffee vending machines are among the most popular solutions for office buildings. They have a large cup capacity and a wide variety of beverages to satisfy all consumer needs. Office coffee vending machines are very efficient in terms of brewing speed as they can deliver drinks in less than 30 seconds with the simple touch of a button.
In-cup vending machine: among the largest machines on the market, in-cup vending machines provide both the hot drink and the disposable cup at the same time. They are ideal for very large office locations, can usually offer a very broad variety of drinks, including decaffeinated options like tea and hot chocolate, and they can deliver them in just a few seconds.
How Much Does an Industrial Coffee Machine Cost?
If what you need is a high-capacity office coffee machine for a large business, buying it is probably not the best solution because besides the initial capital required for such a purchase, you would also need to take care of servicing, refurbishing, and maintenance. In this case, leasing or renting are your best options.
Buying, Leasing & Renting a Large Office Coffee Machines

| Coffee Machine | Buy | Lease | Rent |
| --- | --- | --- | --- |
|  Floor Standing Vending Machine | Up to £5,000 | From £15,50/month | From £12,50/week |
| In-cup Vending Machine | Up to £5,000 | From £25/month | From £20/month |
Fill in the form in just 1 minute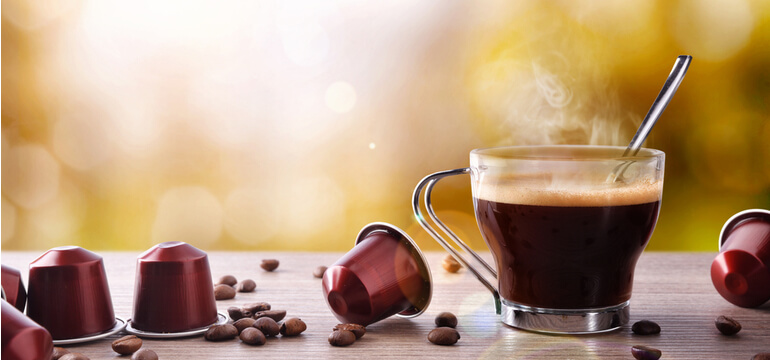 Type of Coffee You Can Use in Your Office Coffee Machine
According to your preference and your needs, you have the possibility to choose among different types of coffee to use in your machine. Different machines use different types of coffee, and this also influences both the price of the machine and the cost of upkeep and refurbishments.
Coffee Beans: bean-to-cup machines are an excellent choice for locations where coffee consumption is relatively high. They can have a relatively high cup capacity, but require maintenance more often than other types of office coffee machines. Since the coffee is ground straight from the beans by the coffee machine, it has the ability to serve very high quality coffee.
Ground coffee: if you do not wish to have a grinder incorporated in the machine, you can still ensure the quality of your coffee by using the ground coffee of your choice.
Pod or capsules: a good compromise between quality and convenience. Pods and capsule machines require little cleaning and maintenance but still allow for a certain variety and choice in coffee quality.
Instant coffee. A suitable solution for mid-sized offices, some machines use instant coffee or powdered drinks to deliver a wide variety of products in a few seconds. An instant office coffee machine can not only deliver coffee, but also tea, cappuccino, latte, hot chocolate and many other hot drinks.
Most Popular Brands of Business Coffee Makers
Well-known brand coffee machines are more likely to perform better and last for a longer time, and if not, there is a bigger guarantee from the manufacturer of reliable reparation service.
It is safe to say, then, that the best coffee machines would be the ones manufactured by brands with a long history in the business, who have crafted their machines to perform at better conditions and last longer.
With well known brand comes reliable quality but also higher price. The main brands of office coffee machine suppliers in the UK are:
Franke Coffee Systems: a Swiss company that focuses on cafés and restaurants.
Fracino: a British manufacturer of cappuccino and espresso machines.
Gaggia: an Italian brand, specialised in espresso machines.
De'Longhi: another Italian company, leader in the production of coffee machines and home appliances.
Jura: originally Swiss company with a focus on automatic machines.
Kenco: specialised in machines with high cup capacity.
Bosch: a famous manufacturer of various home appliances, which also produces coffee machines.
Selecta: another Swiss company that is a leader in Europe for the production of vending and coffee services.
Astoria: coffee maker producer which has a strong focus on protecting the environment.
Saeco: the inventor of the first super-automatic espresso machine.
Miele: the German brand of home appliances that also supplies high quality coffee machines.
5 Things to Consider When Choosing an Office Coffee Machine
Before purchasing an office coffee machine, it is important to consider various factors. From features, capacity, cleaning requirements, functionality, and more. The following five elements should be evaluated:
1) Cleaning After Use
The smaller the machine, the more manual work and cleanup after use it will require. An espresso machine, for example, needs to be cleaned after every use, which is only possible if the office is small and employees are willing to take the time. On the other hand, a large, in-cup vending machine requires no manual work at all and no cleaning after use: you just need to push a button and the coffee will be automatically poured into a disposable cup that the machine itself will provide.
2) How Long Does It Take to Make Coffee?
Smaller, less technologically advanced machines typically take a longer time to make coffee, while modern hot drinks vending machines can deliver a hot cup of your favourite drink in less than 30 seconds. If you don't want your employees to spend a long time preparing coffee, you might want to opt for a quicker solution like a vending machine.
3) How Easy Is It to Use the Machine?
Some machines only take the push of a button to deliver a wide variety of drinks, while other machines need to be operated manually. For example, operating an espresso or cappuccino maker is not as easy as operating a tabletop vending machine. You may want to get one of these if you think your employees will appreciate the high quality coffee an espresso maker can deliver despite the fact that they are not the easiest to use. Otherwise, try with a simpler option like a vending machine.
4) Water Capacity or Plumbing
Your machine can be either connected to the plumbing system in your office, or it can have its own water tank. The choice will depend on the cup capacity you desire in your machine as well as on where you will place it in the office. The advantage with a plumbed in machine is that you do not need to refill the water tank manually. However, this solution may be significantly more expensive than the alternative.
5) Versatility, Size & Usability
A cup of coffee is not everyone's cup of tea. Think about whether you want to cater for different needs in an all-in-one machine or rather provide separate equipment. The capacity of a coffee machine is usually measured in cups. Choose between single serve or multiple serve, drip down or one-cup-per-click machines. Most coffee machines come with an LCD display which provide you with coffee with just one touch. This easy to use option is fast and convenient and often saves you from having to clean up.
Find The Best Coffee Machine for Your Workplace
Coffee machines for offices are certainly a key element for many office spaces. Coffee is a vital part of office culture, and coffee breaks are an occasion for employees to take their minds off work, to network or even have a quick informal meeting. Some office coffee machines can also double as a hot water dispenser, and thus offer multiple functionalities. Therefore, it is important to choose an office coffee machine that can satisfy the needs of your employees and customers.
In order to make your choice easier, we are here to provide you with four personalised quotes for office coffee machines. All you have to do is to fill in a quote request form and our sales team will contact you with up to four quotes as soon as possible. Requesting quotes is free and without further obligations.
Fill in the form in just 1 minute